The Do's and Don'ts of Online Bra Shopping:
Didn't we think lockdowns and isolations during 2020 were coming to an end? But 2021 had other plans.
Another year of staying inside, attempting new hobbies, eating more and for some of us, indulging in a bit of online shopping.
Enter 2022 and many consumers grew to prefer the convenience of shopping online and even enjoyed the experience.
Fun and easy, online shopping can provide lots of options often make a bad day a little bit brighter.
Australians spent a total of $4.2 billion online in August 2021, which is a 36% increase from the previous year thanks to the pandemic, however 23% of clothing purchased online was returned and this was often because of incorrect sizing.
For women who are busty, trying to buy a bra online can be incredibly frustrating and time consuming especially if you don't know your exact size and which styles suit you… please don't get us started on all the sizing inconsistencies between brands. What are you supposed to do?
Here at Brava, thankfully, we understand that buying bras online can be confusing, which has driven us to put together detailed tips and tricks to make shopping with us as easy as possible!
We love to welcome you into one of our stores and to be cared for by our lovely specialist staff members who are ready to assist you in getting fitted, but if you're unable to make the trip, then please read on…
1. Take advantage of a Size Converter Chart!
If you have lived in the US, UK or Europe, you will know each country has their specific sizing model.
Both the size of the cup and the band will differ, for example you will discover that an AUS 14E converts to a US 36DDD, or a EU 80F… no wonder we are all confused!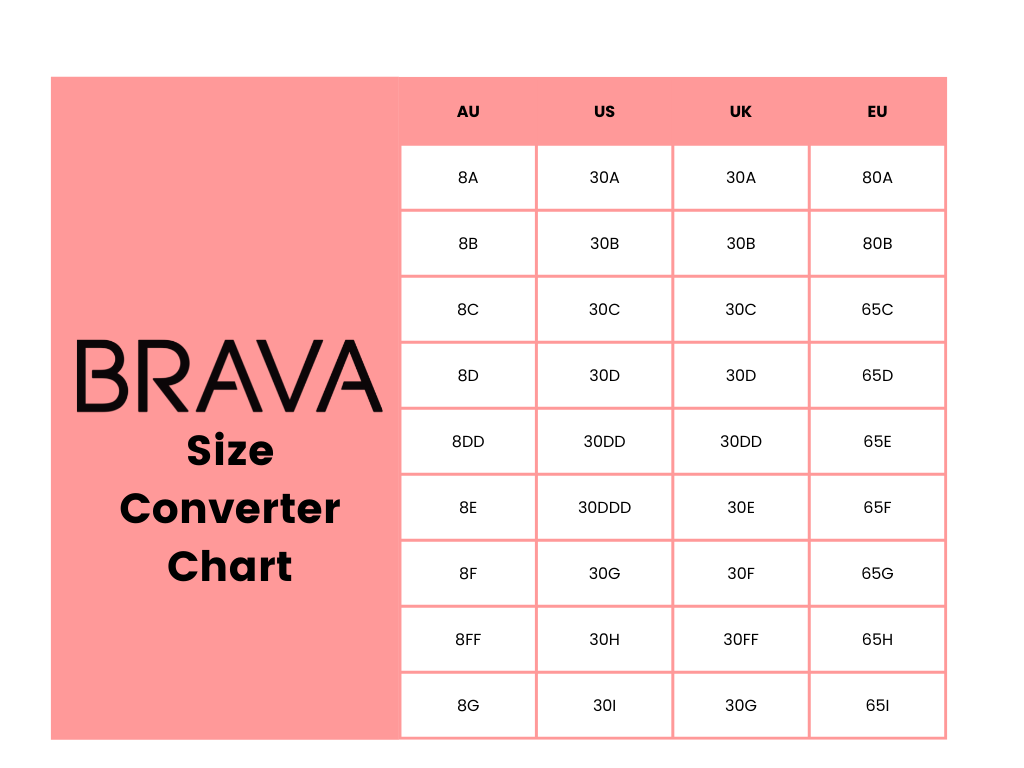 *Note that some brands may skip FF and GG cups*
At Brava we have created a Bra Size Converter Chart (above) that you can find on the product pages on our website. This makes it easier to convert the size you normally wear into the Australian sizes which are displayed on the site.
2. Sister Sizing
If you're as obsessed with getting the right fit as us, you might have heard of the term 'sister-sizing.'
This can be great if a specific brand is known to run smaller or larger than you're used to, or if your band isn't fitting quite right but you want to keep the cup size the same-the guide below will help you to adjust the band, cup or both to get the right fit.
Many retailers may suggest you 'sister size' if your size is not available - please don't! There are many health related issues such as back, neck, shoulder pain and headaches if your bra is not anchored to support you.
If you're still unsure how to get the right fit for you, we are always here to help - actually we insist!
This chart explains sister sizing in an AUS size chart: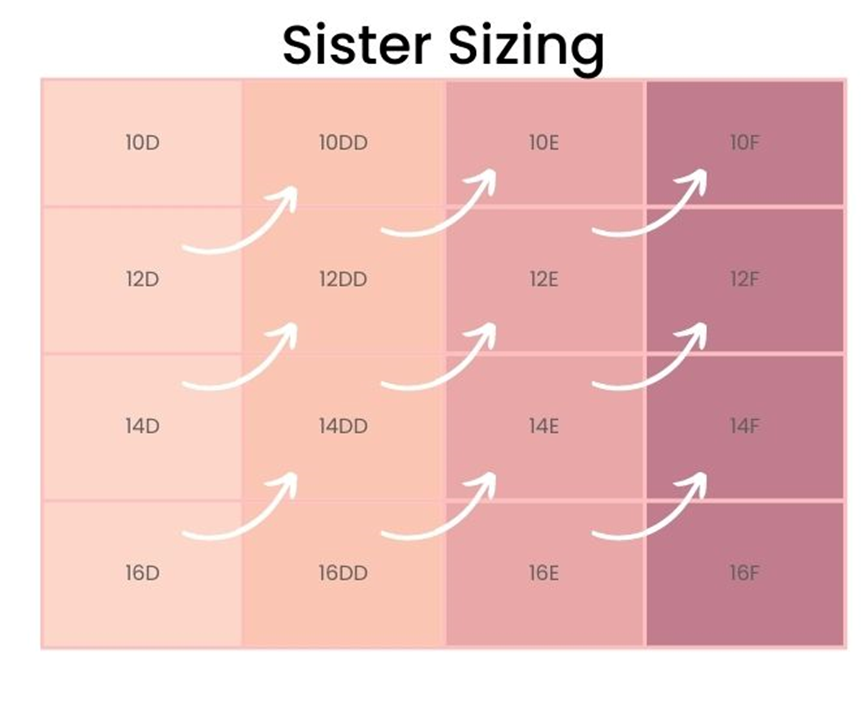 3. Book a Zoom Fit!
Brava's ZoomFit service means you can chat to one of our friendly team members via Zoom, they are trained to fit by eye and are delighted to offer their expert advice.
This is a fantastic option if you are unable to visit a Brava store but need fitting advice before you purchase your chosen bra online with us.
Here at Brava we're always working hard to perfect our services and to give you the best shopping experience possible.
It's the ideal time to take a peek at our product review blogs and videos across our website and socials, as well as the Brava Size Conversion Charts and Bra Fit Finder to help you determine the fit and style that will best suit your needs.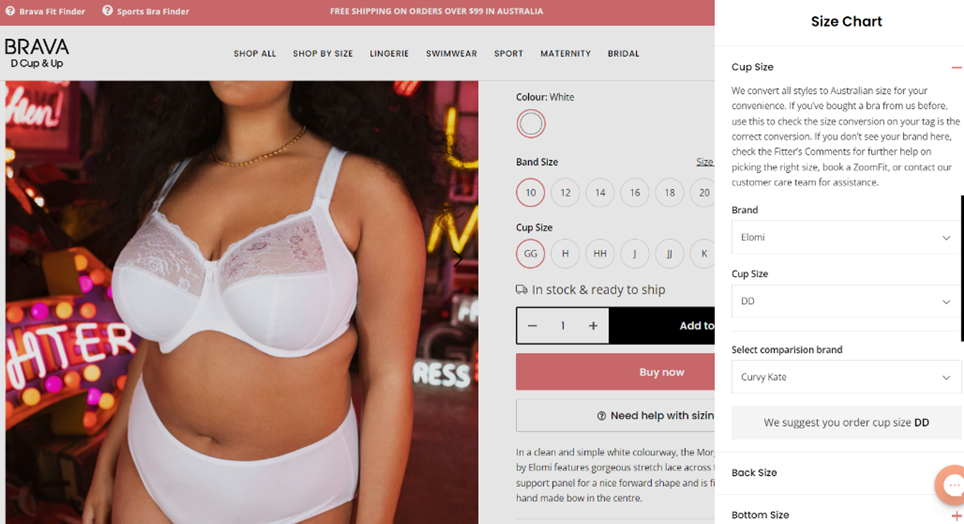 Our Size Chart above that can assist in converting sizes between brands, found on every product page.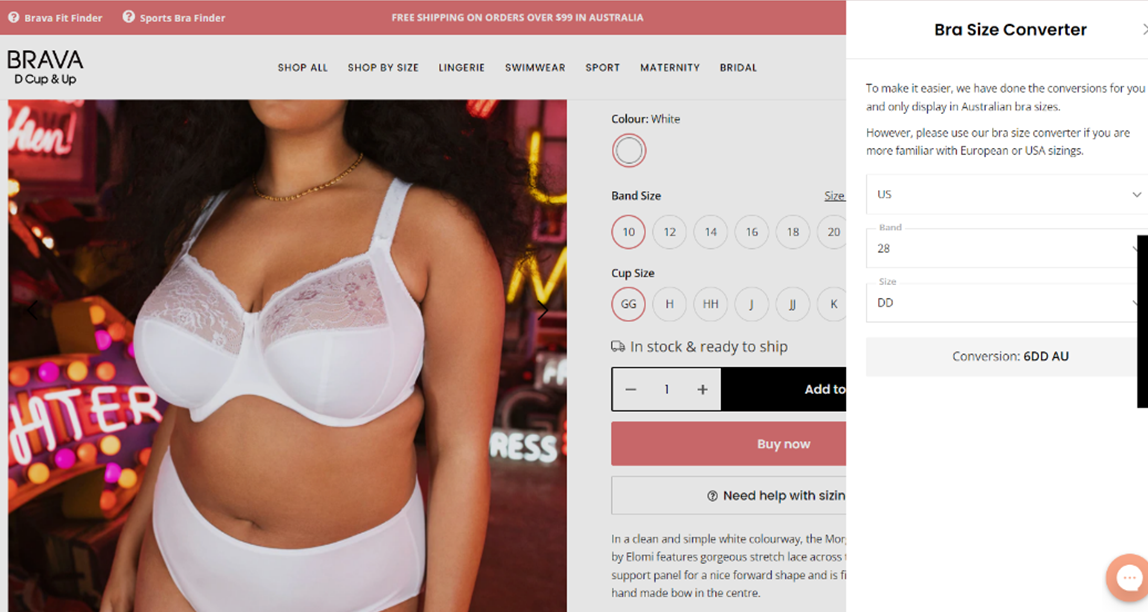 And our Bra Size Converter which assists in converting to Australian sizes, also found on every product page.
Our aim is to save you time and stress by making bra buying easy and fun…yep, you heard right!