How Should a Strapless Bra Fit?
At last, it's summer time in Australia; the weather is warm and lots of holidays and events are planned. Don't give up on the beautiful outfit of your dreams simply because you wear D cup and up bras! Just make sure you're wearing a strapless bra that fits you well, supports you and is comfortable. But, the big question is how to choose a strapless bra to complement the fabulous dresses and tops that show off your tan and look stunning. Understanding how a strapless bra should fit is essential because it's a must-have under an off the shoulder top or dress, amazingly these bras can provide excellent support despite being strapless.
If you've never worn a strapless bra it's recommended to always try them on before you buy, it's normal to ask how should a strapless bra fit? Strapless bras are designed to be worn without straps when you want to wear that special dress or top. They always come with removable or convertible straps for everyday wear, but typically they are created to be worn on occasions when you do not want any straps to show.
First you find that very special dress, and then you know how to choose a strapless bra that truly complements it. The lingerie industry's secret is the construction of a more structured back band, inner tensor bands, plastic side stays, and silicone grippers that warm to the skin to prevent slipping.
To answer the often asked question are strapless bras good for large busts? Yes! We have a a wide range of strapless bras designed with sturdy padded cups, elastic band and back panel to provide infallible support for larger cup sizes. But, you just need to know how to choose a strapless bra that is right for you; the correct size, style and fit. That's where Brava comes in!
So many times we are asked are strapless bras good for a large bust? The perfect strapless bra should give support, be comfortable to wear, and not require constant adjusting. So, what does the perfect strapless bra look like? How can you find the perfect fit? We're here to help.
If you are wondering how to buy a strapless bra, our advice is that you need to try them on with the help of an experienced fitter. It's crucial to make sure that your bra fits you correctly and it won't slip down. You can visit us at Brava stores in Melbourne, Brisbane and Sydney where our professional and compassionate fitters are obsessed with fit. We also provide the option of ZoomFit & Virtual Fitting from the comfort of your home.
At Brava there is often hesitancy, our customer adores her new halter neck dress, wants to wear it on the weekend but is asking are strapless bras good for a large bust? In the past there were very few options for larger cup strapless bras but now we welcome women with larger breasts and have the absolute pleasure of finally finding the perfect strapless bras to meet their outfit needs.
We usually recommend a moulded style, which will ensure that your bust looks it's best throughout the day (and night!). The back band grips firmly to avoid slippages, this is very important and will help you feel confident and supported. Sit in a chair, lean forward as if grabbing your drink off the table at a party. If you stay in place with limited movement, you've got it!
How To Choose a Strapless Bra
Look no further, we can help you recognise how to choose a strapless bra that is the most comfortable bra for your special outfit. With wedding season upon us, the brides and bridesmaids ask: are strapless bras good for a fuller bust? Happily, at Brava we know how a strapless bra should fit and finding the right bra is a wonderful experience that can be life changing. It's time for you to get your perfect strapless bra from Brava and embrace it.
Because 7 is a lucky number - 7 days of the week, 7 continents and 7 brides for 7 brothers - we have chosen just 7 of the strapless options at Brava, in sizes 6-22 and D-J cup, for you to check out!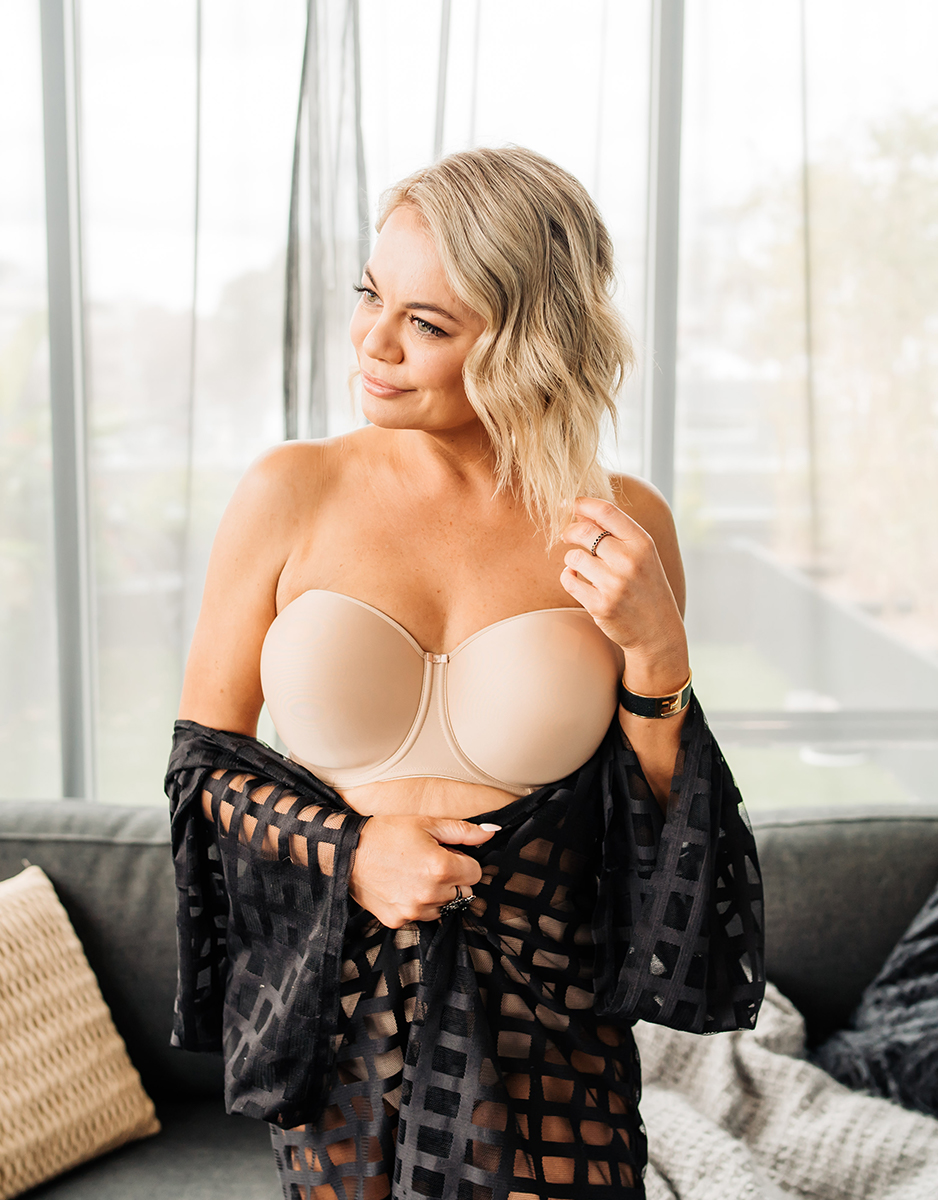 Fantasie Smoothing Strapless Bra
This is our best seller for a reason, it's perfect worn underneath any outfit and provides a smooth appearance that prevents any lines from showing through. Underwired moulded strapless bra with detachable straps for halter or cross-over, it has a reduced cradle for a lighter yet firm anchorage. Available in band sizes 8-20.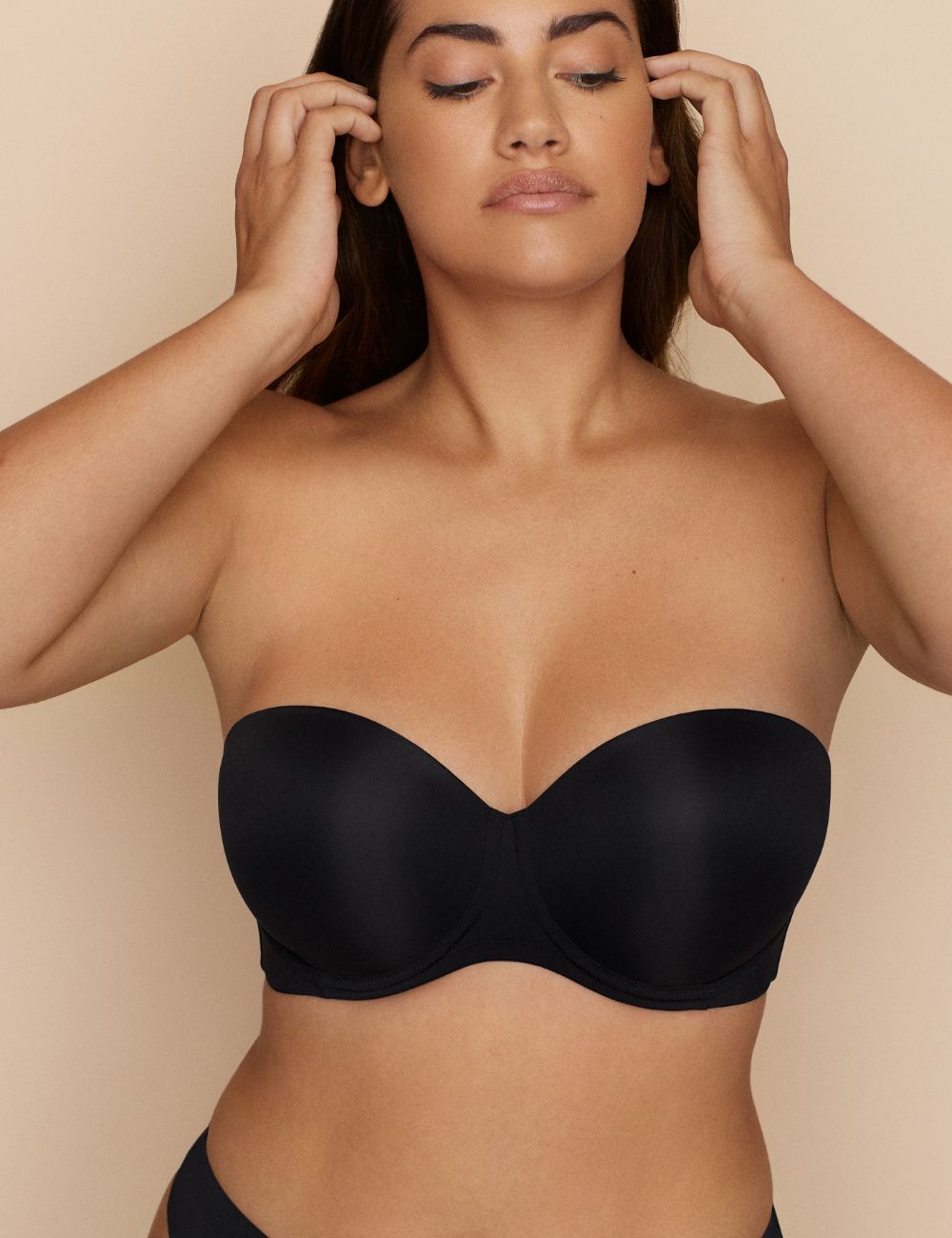 Prima Donna Figuras Padded Strapless Bra
If you love a bra that is simple yet sophisticated, and gives you support but also slims down your silhouette, we highly recommend the Prima Donna Figuras. It can be worn as a convertible bra for perfect flexibility. Hidden support through the band makes this comfortable and supportive while staying put. Available in band sizes 8-20.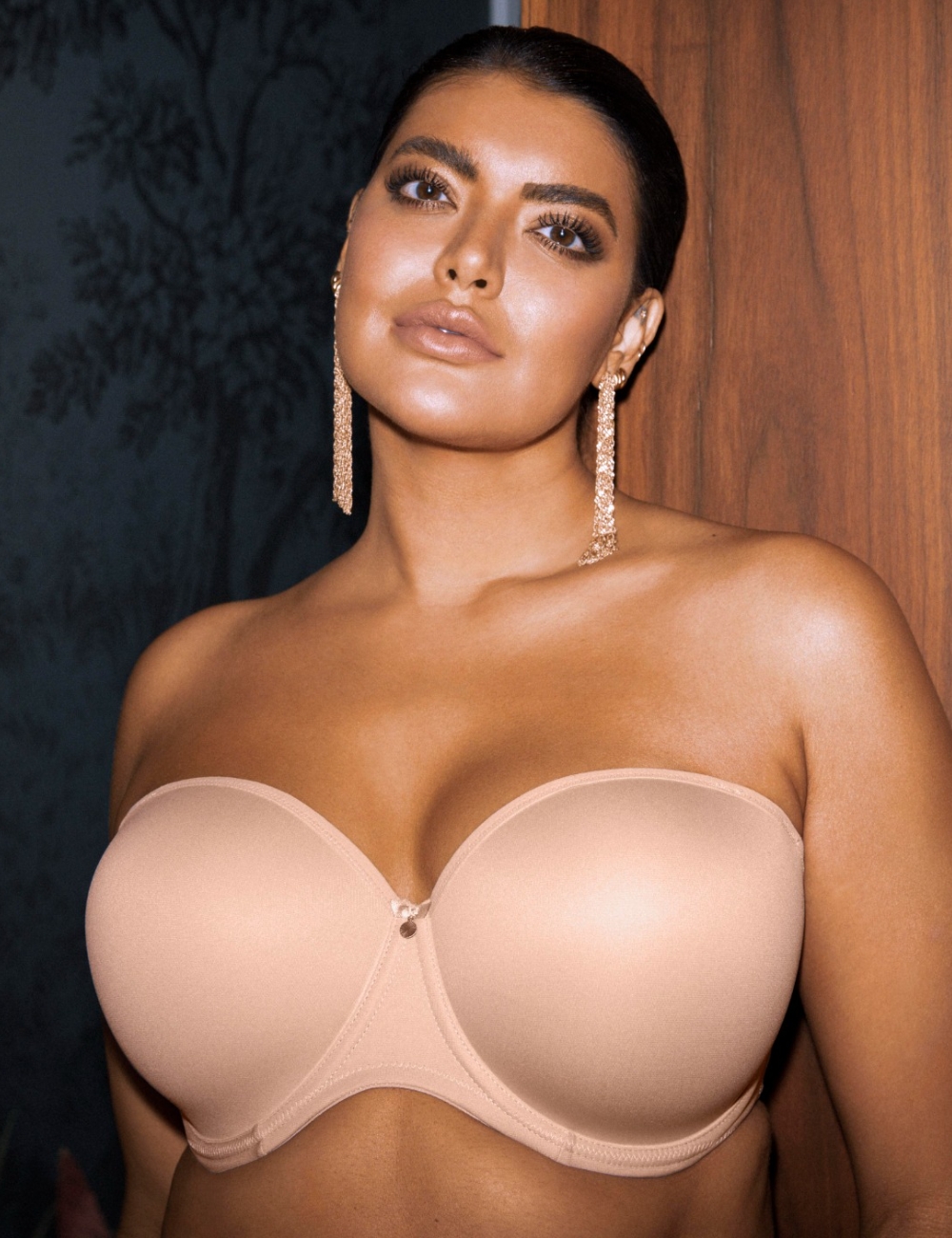 Elomi Smooth Moulded Strapless Bra
For all your bridal needs (including your bridesmaids!), we recommend the Elomi Smooth Moulded Strapless Bra. This bra features a wider back strap and flexible boning which will adjust to your body shape. A bra should fit you and not the other way round! Available in band sizes 10-22.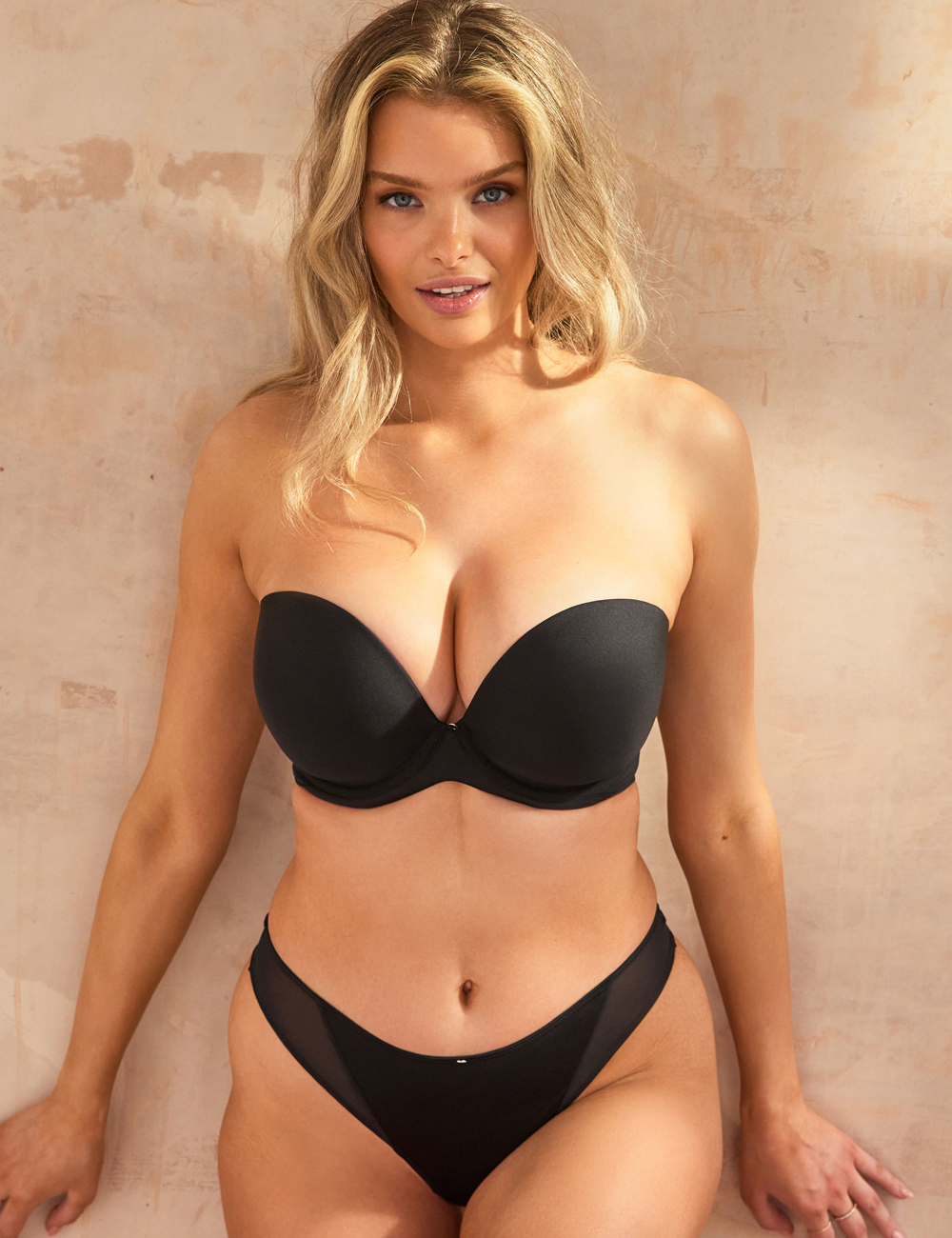 Panache Faith Moulded Plunge Strapless Bra
If your outfit has a gorgeous V-neck or plunge-line, then this is the way to go. The deep, plunging neckline is created for outfits that enhance and embrace your shape. Available in band sizes 6-16.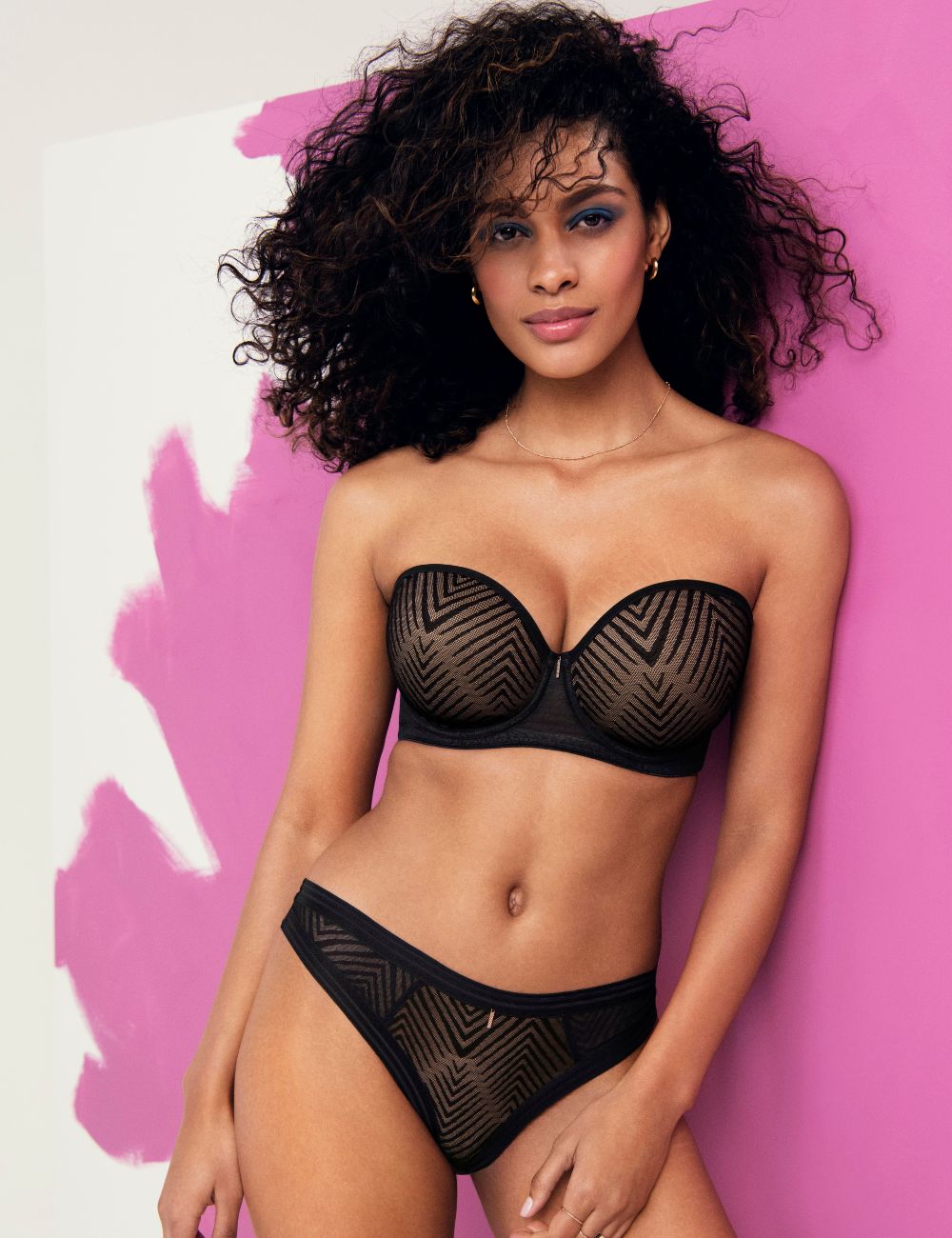 Freya Tailored Moulded Strapless Bra
A contemporary strapless bra with a beautiful sweetheart neckline, moulded cups, and a stretch geo-lace overlay for a smooth and rounded silhouette. Gripper elastic is used for increased anchorage and support. A pretty rose gold pendant features on the centre, and the detachable, fully adjustable multiway straps can be worn over the shoulders or cross back. Available in band sizes 6-16.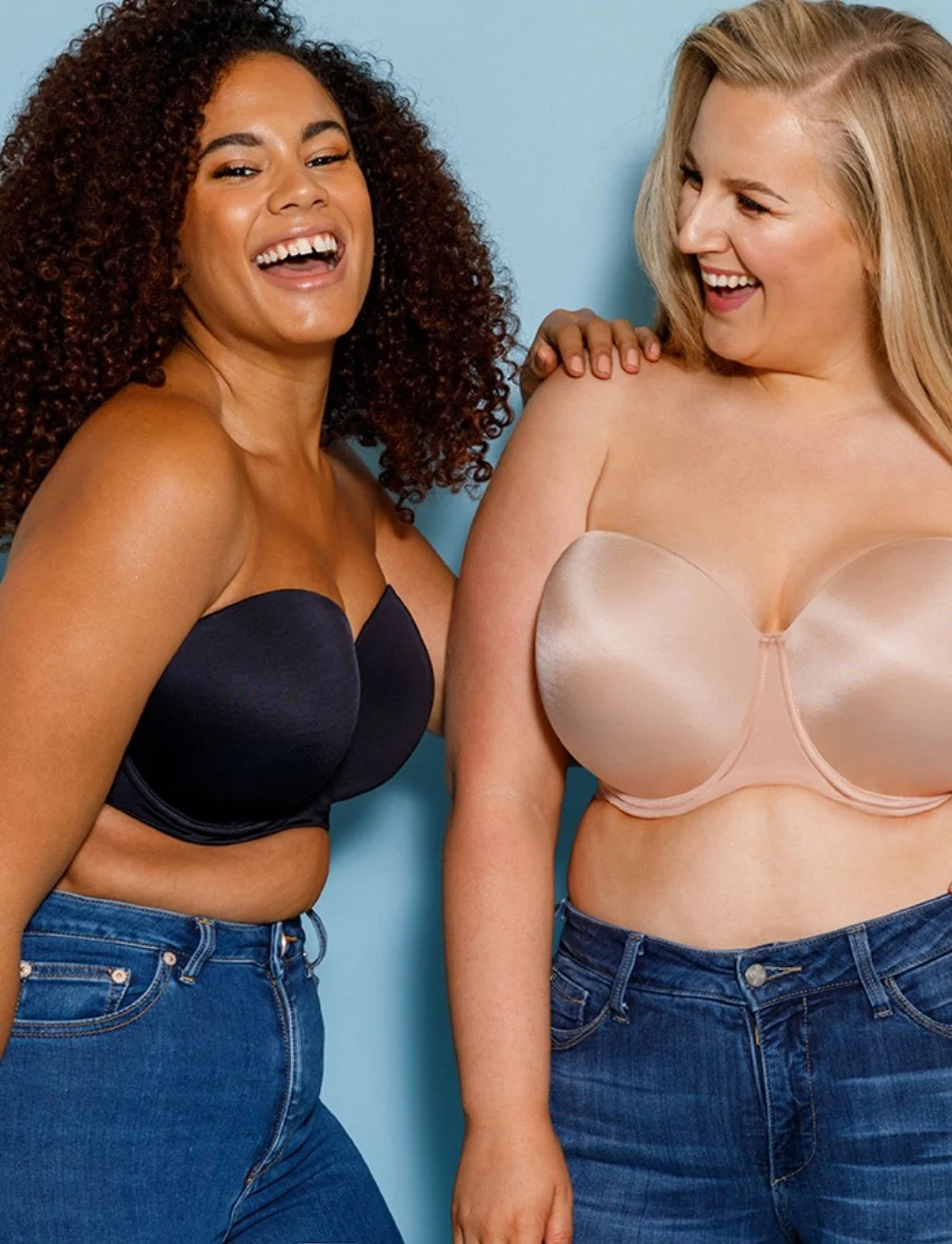 Curvy Kate Smoothie Strapless Moulded Bra
Features supportive underwire, detachable multiway, fully adjustable straps that convert to regular straps or crossover for versatility, it has an incredibly smooth finish that will sit well under clothes! Created up to a J cup with silicon to ensure uplift, smooth foam lining and inside sling support. Available in back bands 6-22.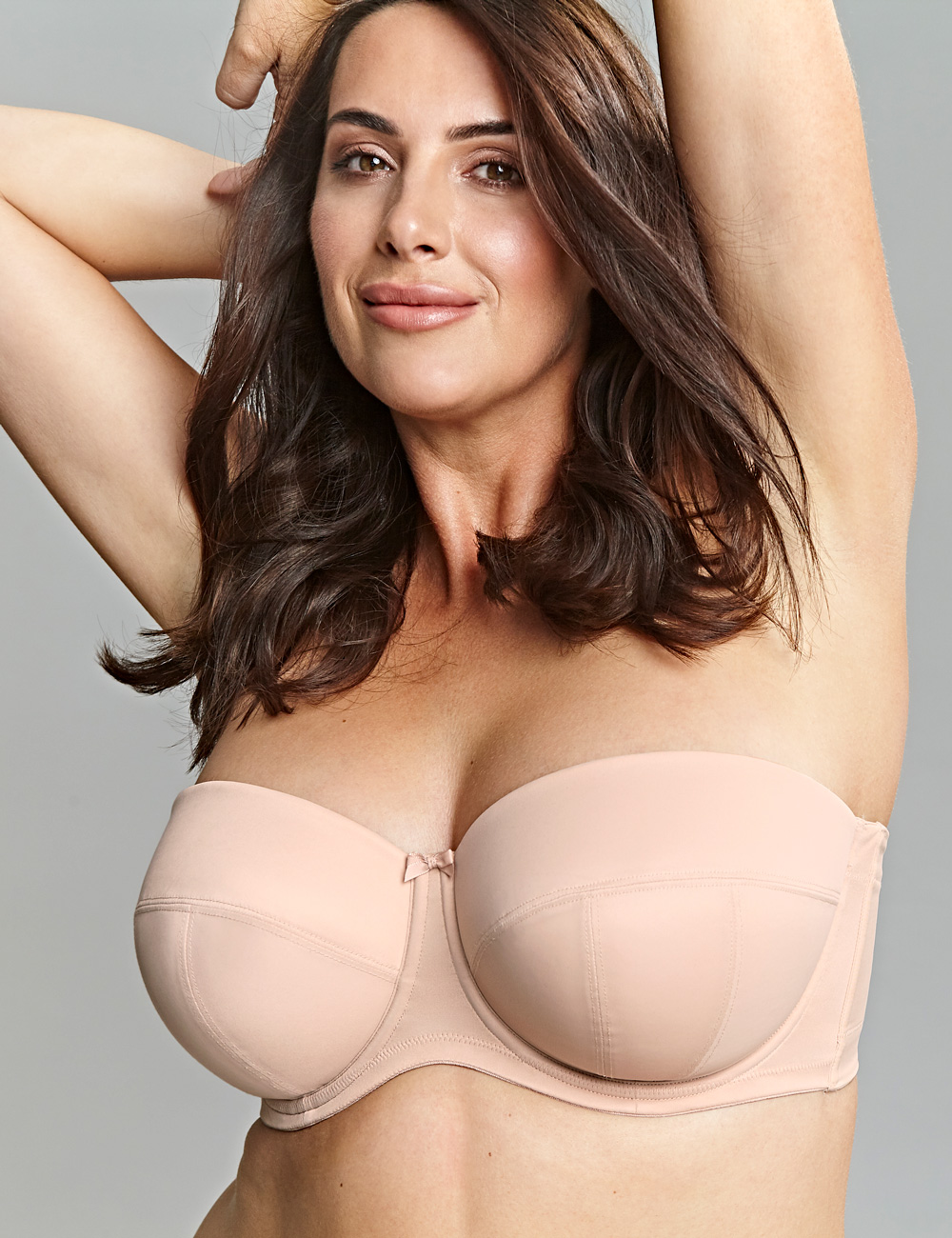 Sculptresse Dana Strapless Bra
With four piece padded cups, wide hook and eye across the back and removable, adjustable straps for a multi-way option, you will feel fully supported and secure all day long. It has double layered wings for a smoothing effect. Available in band sizes 12-22.