The Bra Fitter Guide to D Cup and Up Bra Shapes
Do you feel confused and overwhelmed at all of the different bra terms when lingerie shopping? Don't worry, the Bra Fitter has you covered! Here are some of the basic bra shapes that you will come across while searching for D cup and up bras, and what you can expect them to do for you.
Also known as balcony bras, balconette bras are perfect as an everyday option for the D cup and up woman. They give the perfect balance of coverage and support, and they're versatile enough to be worn with most outfits. Balconette bras can be moulded and non-moulded, and many T-shirts bras fall into this category. You'll find that these styles will sit low enough at the centre to give a little cleavage, and tend to give more coverage where the strap meets the cup to prevent any overspill. Our favourites include the Panache Jasmine Balconette Bra and the Fantasie Smoothing Moulded Bra.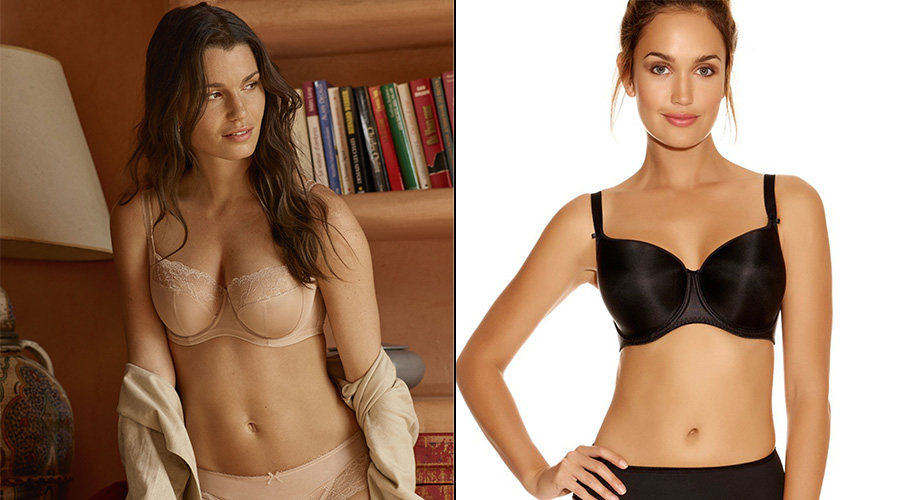 Have a dress or top with an open neckline? The half cup shape is your new best friend! For D cup and up sizes, you'll find that most of these will come with a little bit of light padding - don't worry, this won't make you appear any larger! In fact, the padding helps in giving the bust extra lift which can make you look slimmer in the torso. This shape is favoured by teenagers and young women, but works well on women of all ages! Some great examples of the half cup style are the Samanta Perla Soft High Apex Bra and the gorgeous Chantelle Day To Night Half Cup Bra.

If you're after cleavage, the plunge bra is for you! Great for V-necked tops and dresses, D cup and up plunge bras are specially designed to keep the bust supported and allowing for the low wires at the centre. You'll definitely want to make sure that these sorts of bras are well fitted to prevent spillage and the dreaded quad-boob! We've reviewed a couple of our most popular plunge styles; check out the Freya Deco Moulded Plunge Bra and the Panache Ana Plunge Bra. If you also wear a larger band size, check out the gorgeous Elomi Matilda Plunge Bra.

Many bra shops will tell you that anyone above a D cup needs a full cup bra for support - this couldn't be further from the truth! That said, there are some women who will only feel comfortable while wearing a full cup bra, and they certainly don't have to be dull! There are some fantastic options out there for those who prefer fuller coverage, like the Fantasie Rebecca Essentials Moulded Spacer Bra and the Prima Donna Deauville Full Cup Bra.

""Oh no, I'm a D cup, I can't wear a bra without a wire!"", we can already hear you say! Wrong! Many women will swear by wirefree bras and they're not beige straitjackets! Some women simply finish breastfeeding and decide to continue to wear wirefree bras, others have had issues with wires in other styles, and some just want a comfy bra as part of their lingerie collection, there are many reasons to choose a bra without wires. Wirefree bras designed for D cup and up will mostly have full coverage and seams in the cup in order to provide shape and support. Our picks? Try the Panache Andorra Wirefree Bra or the Elomi Cate Wirefree Bra for larger band sizes.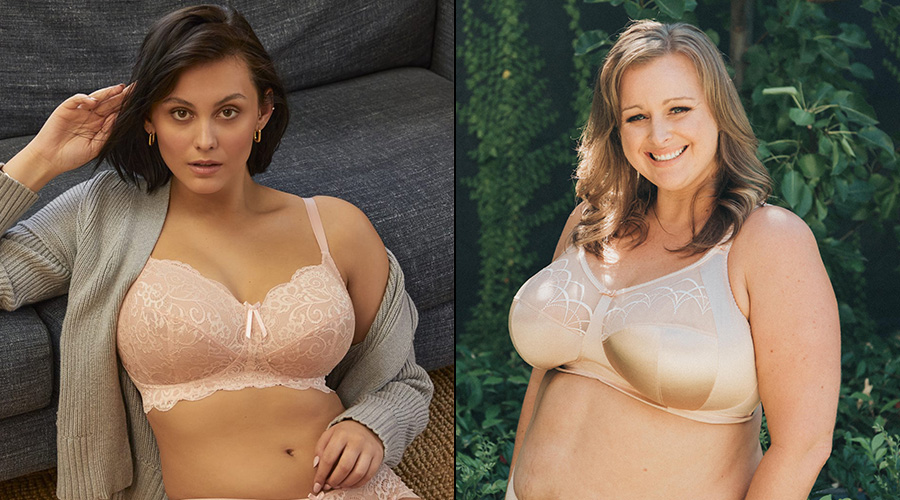 A good strapless bra is the holy grail for so many D+ women. You need to look for something with a wide band with a firm fit as that's all that's going to hold you up - there are no straps to rely on here for support! Be aware that strapless bras are often a compromise so you may not achieve the perfect lift and cleavage that you're after as the bra needs to have the right structure to give you support. We love the Curvy Kate Luxe Strapless Bra (up to an incredible J cup!) and the Panache Koko Moulded Strapless Bra.