The Search for a Perfect Plus Size Strapless Bra
With the weather getting warmer and holidays well underway, cute spaghetti straps and tube tops are a must in our wardrobes. However, if you have a fuller bust and require a little more support, we're here for you. We can't deny the fact that strapless bras can be uncomfortable from time to time - some lack support, slip down and make our breasts look out of place, but we're here to reassure you that they can work for you. You just need to find the right size, style and fit… that's where Brava comes in!
Plus size bras
Last year, I finally found the perfect strapless bra which I thought was only a myth. I wore it constantly, everywhere, and anywhere. I was finally able to wear all the cute tops I had always wanted to wear without compromising comfort. I still remember the days when I would show up to events and brunches in camisoles and halter tops which would lead to questions from friends like:
"What kind of bra do you wear with these tops?"
"Is it not uncomfortable? All my strapless bras slip down on me".
The perfect strapless bra should give us support, be comfortable to wear, and not require constant adjusting, which we all know is a very awkward and uncomfortable thing to have to do in public. So, what does the perfect plus size strapless bra look like? How can you find the perfect fit? How can you avoid the mistake of getting the wrong one? We're here to help.
Plus Size Bras Australia
In Australia, there's very few options for plus size strapless bras and at Brava Lingerie we hear this all the time. We meet women with larger breasts and have the pleasure of finally finding the perfect plus size strapless bras to meet their outfit needs.
Firstly, it's crucial to make sure that your bra fits you correctly, so it won't slip down. If you are unsure on sizing, you can always visit one of our stores where our expert bra fitters are more than happy to help. We also offer a Virtual Fit or ZoomFit online service from the comfort of your own home. Don't have time? Easy! You can also input your measurements on our website and chat further about your strapless bra needs with our experienced bra fitters.
To enhance the shape of your strapless bra, we usually recommend a moulded style, which will ensure that your bust looks its best throughout the day (and night!). Another thing to look out for is the back of the bra. The back strap should have elastane to make sure it grips tightly and avoids slippages. When it comes to plus size, this is very important and will help you feel confident and supported throughout all your events and outings.
Having trouble finding this style of bra? Look no further, we can help you find the most comfortable bras for any outfit and any body type! Check these out:
Introducing the Fantasie Smoothing Strapless Bra Nude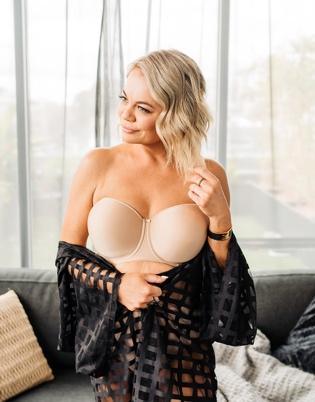 This is our best seller for a reason, this bra gives you everything and more. It's perfect worn underneath any outfit and provides that smooth appearance that will prevent any lines from showing through.
If you have a plus size bust and prefer a bra that gives you all of that but also slims down your silhouette and reduces any added mould, we highly recommend Prima Donna Figuras Padded Strapless Bra Charcoal.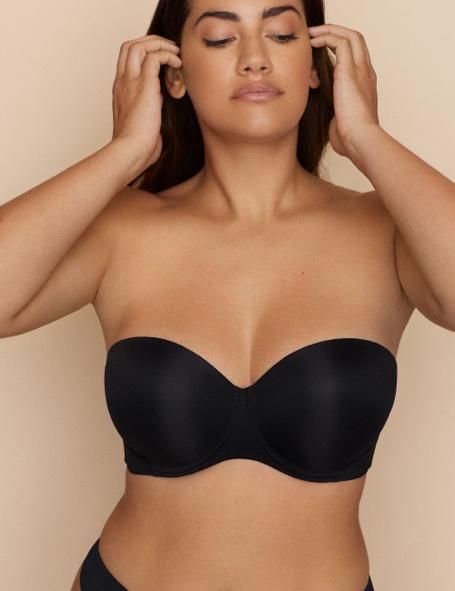 Plus Size Strapless Bras for weddings
We all know how horrible it is when our bra wires dig into our skin, especially when a strapless bra requires a tighter fit around the chest. We also know that wedding season is upon us, so for all the brides and bridesmaids looking for a plus size strapless bra for weddings, we have many options!
For all your bridal needs (including your bridesmaids!), we'd recommend the Elomi Smooth Moulded Strapless Bra. This bra features a wider back strap and flexible boning which will adjust to your body shape. A bra should fit you and not the other way around!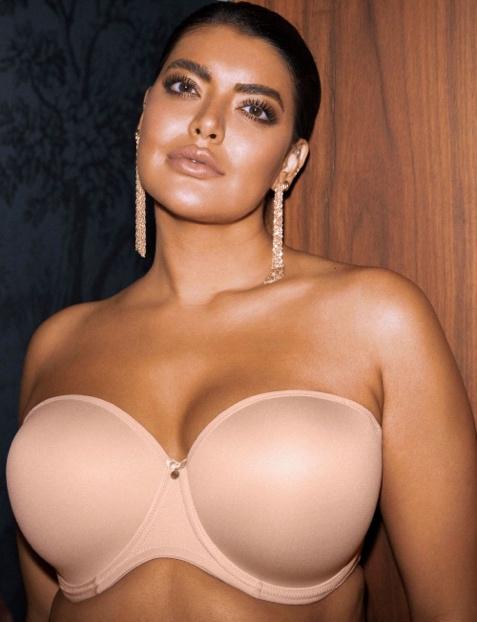 If you are going to an event where you might need a strapless bra that goes with a gorgeous V-neck or plunge-line, then our Panache Faith Moulded Plunge strapless Bra would be the way to go.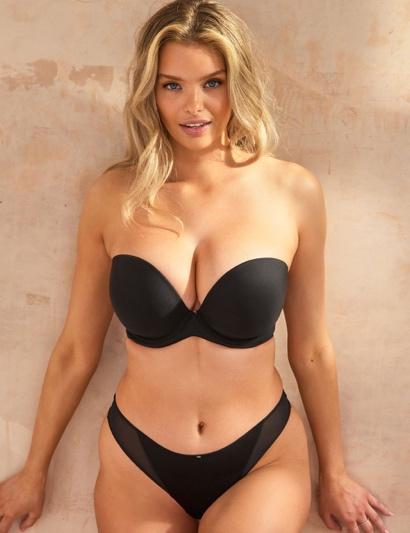 Not quite right for you? We have a huge range of strapless bras for all bodies that you can choose from. Finding the right bra is a wonderful experience that can be life changing. Different people need and want different things, but one thing is for sure, fit should not be compromised. It's time for you to get your perfect plus size strapless bra from Brava Lingerie.