The Search for the Best T-Shirt Bra
The desire for T shirt bras is so often related to us wanting to wear our favourite outfits while ensuring a smooth line under our tops and dresses. Typically, it's a simple style without lace or embroidery on the cups and it won't show through clothing, in comparison to a regular bra, the seams are magically constructed to create the shape we're looking for.
What is a T-shirt Bra?
Always smooth, T-shirt bras are either moulded or padded and the padding is often very light but sometimes a thicker padding is used. In the lingerie industry 'Moulded' actually means the cups are made from one piece of fabric (which is heated up over a mould) so when we take our bra off it will still keep its shape. The cups in a moulded T-shirt bra have already been formed to shape, this is why they do not need seams. T-shirt bras are designed as a great option when we want a bra that won't show through our clothes and the padded moulded bra has the added benefit of nipple coverage as well.
So, a T-shirt bra can either be moulded, seam-free or have barely-there seams to give a smooth line under your clothes. The cups in a moulded T-shirt bra have already been formed to shape, this means that they don't need seams. This makes T-shirt bras a great option when we want a bra that won't show through our clothes.
High-quality t-shirt bras support us where it's most needed, some also have convertible straps that allow for a back cross-over strap position enabling the straps to be away from the shoulders. Our t-shirt bras offer support, while smoothing creases and bumps. Fine lines are almost invisible under our clothes, even under the thinnest and tightest t-shirts and tops. There are padded and non-padded t-shirt bras that will gently contour and shape the bust.
What is the difference between a T-shirt bra and a normal bra?
A T-shirt bra can be worn for a smooth line under tops, when compared to a regular bra the seams are cleverly constructed to create the required shape. However, as the cups in a moulded T-shirt bra have already been formed to shape, this means that we don't need to use seams. T-shirt bras give you a smooth line underneath your clothes, as they're either seam-free or they have barely-there seams. As there's often no embroidery or lace, they simply disappear under fitted tops and dresses.
What are the different styles of T-shirt bras?
A padded, moulded style can be a popular choice as a T-shirt bra because the foam inside the cups gives you a smooth silhouette under clothes (and can do the extra job of nipple coverage!). The cups of a padded bra can be made from different types of foam, ranging from a really lightweight foam, and others are made from a thicker, more padded fabric. By having a choice of the type of padding you want, your T-shirt bra doesn't need to add more bulk than you need.
For a woman who has never really felt that her bust looks good, a moulded T shirt Bra is often a great option for her. The shape of the moulding lifts the bust, elongating her body and this bra can increase her body confidence in seconds. Its normal for women to be wary of trying a moulded bra because they think it will make them look bigger, this is usually not the case. The moulding can feel a bit strange at first, but when you get used to it sometimes its difficult going back to non-moulded bras. For some women, the shape of a padded moulded bra can be too dramatic and a moulded bra with a softer shape is recommended.
A moulded t shirt bra lifts and contains the bust which often results in us looking smaller overall. 'OMG I look smaller', 'I have a waist now', and 'That looks amazing' are normal responses to trying a moulded t shirt bra for the first time.
If you prefer to wear a non-padded bra but still want the 'seam-free' look, there is a choice of non-moulded T-shirt bras too, many of us love the smooth shape that they give, with no seams in the cups, they give a clean, smooth line under clothes with no lumps or bumps.
There are alternatives to T-shirt bras which aren't truly seamless, but they have minimal flat seams which offer the smooth shape of a moulded style while still offering the support we need. These styles are great for those of us who don't 'fit the mould', so if you struggle to find a seam-free bra in a size or shape that works well for you, our range of T-shirt bras with barely-there seams are a great option to try.
What are the benefits of wearing a T-shirt bra?
T-shirt bras are versatile! When you're looking for a T-shirt bra, it's a good idea to think about what you're likely to wear your bra with. If you tend to wear lower cut tops, a half-cup or a plunge style might be good option, as the wires at the front are lower so they work well underneath a V-neckline. Or, if you wear tops with interesting back detailing, look at how the bra straps work – can they be converted to a racerback style? Some T-shirt bras have convertible straps that clip into a racerback or cross-over, so you can wear them with lots of different outfits. There are options If you'd prefer a more cleavage-enhancing bra, or if you're looking for a bra with a more natural shape.
T-shirt bras are made from different fabrics, such as a super soft microfibre which feels silky smooth against your skin or some T-shirt bras, are made with a more rigid fabric, which keeps us feeling secure whilst delivering a smooth silhouette under clothes.
T-shirt bras are undetectable under light clothing! T-shirt bras are a great option to wear under white shirts as they give you a smooth silhouette. When you want your bra to be invisible under light-coloured clothes try to match your bra as closely as possible to your skin colour. If you've got lighter skin, then beige, pink, pastel or even gold tones might work. If your skin is darker, try black, brown, cappuccino or even red hues…you'd be surprised which colours work! T Shirt bras come in different skin shades, so this could be a great option to try if you're looking for a T-shirt bra that isn't visible under your clothes.
What brands have a T-shirt bra
We have a wide range of t-shirt bras at Brava, and we'd love to help you find your perfect one.
Brava's Top 10 T-Shirt Bras for the Fuller Bust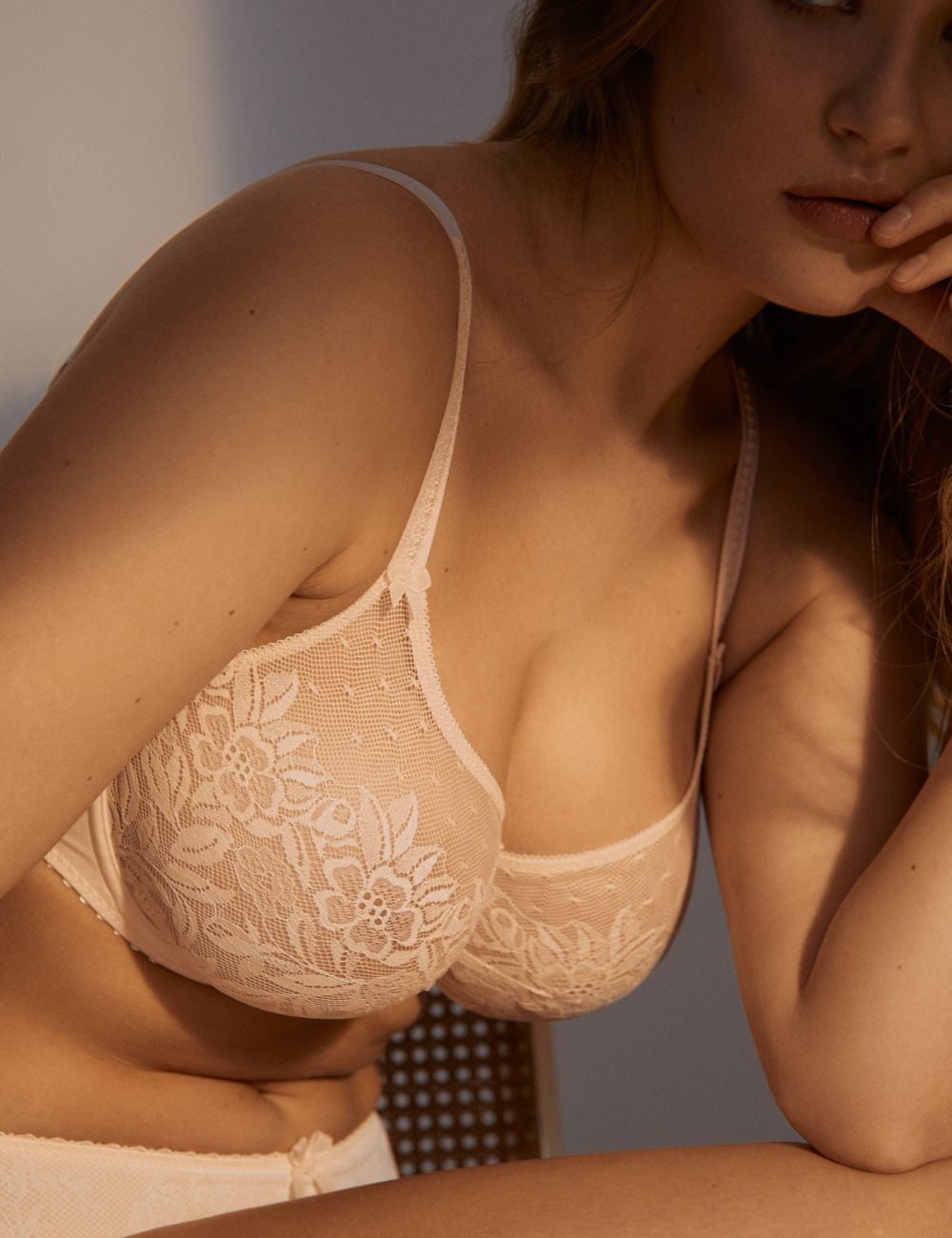 Prima Donna Madison Non Padded Full Cup Seamless Bra
An Elegant and beautiful bra by Prima Donna, the Madison is smooth and seamless and makes a fabulous lightweight but supportive and comfortable t-shirt bra. The gorgeous embroidery detailing across the cups and straps adds style but is not visible under clothing.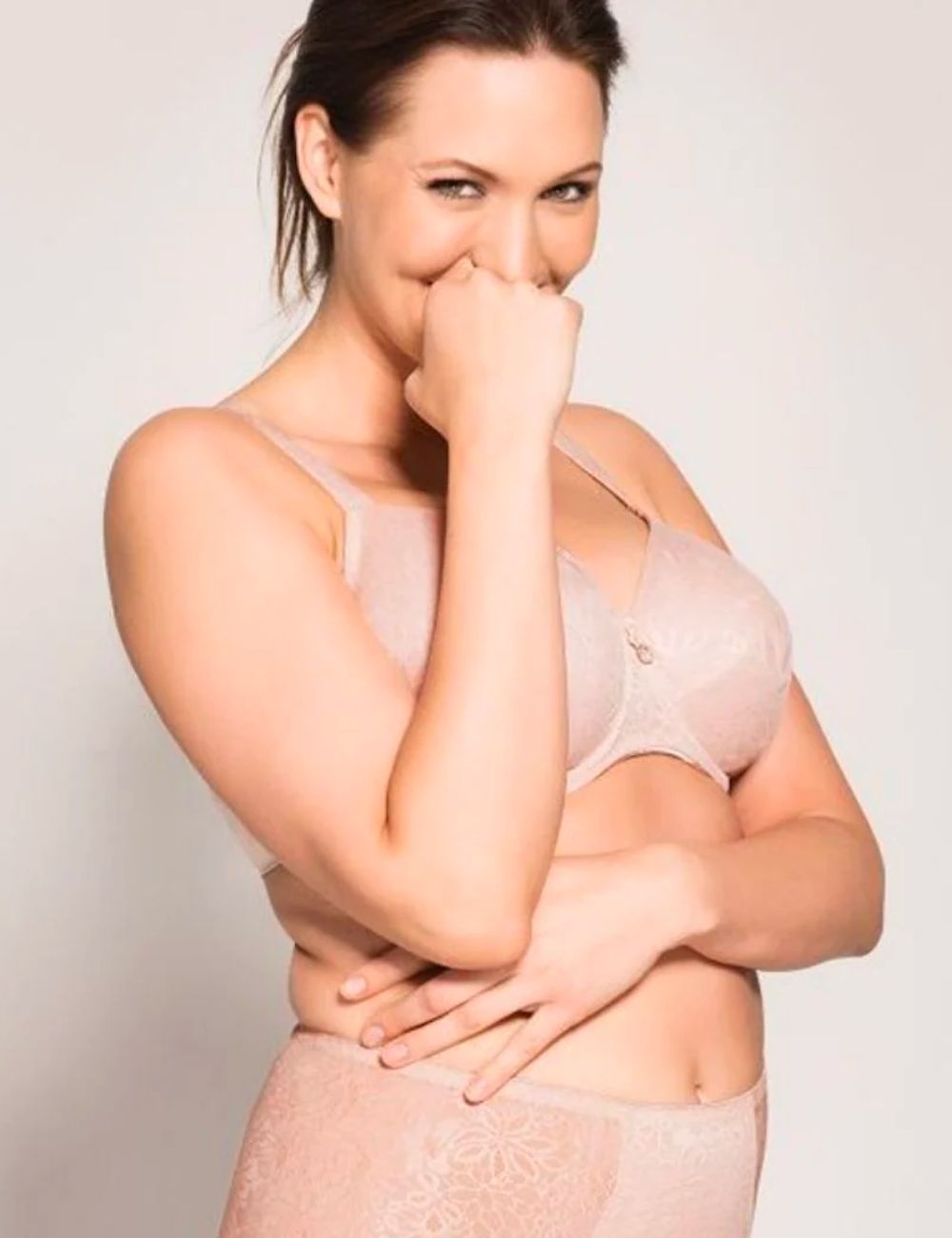 Detailed in stunning lace and unpadded, this t-shirt bra has an excellent 3 part cup design for a flattering round shape and narrowing forward projection. It has a smooth outer layer of high quality power lace making it perfectly invisible under fitted clothing, resulting in you feeling comfortable and supported all day every day!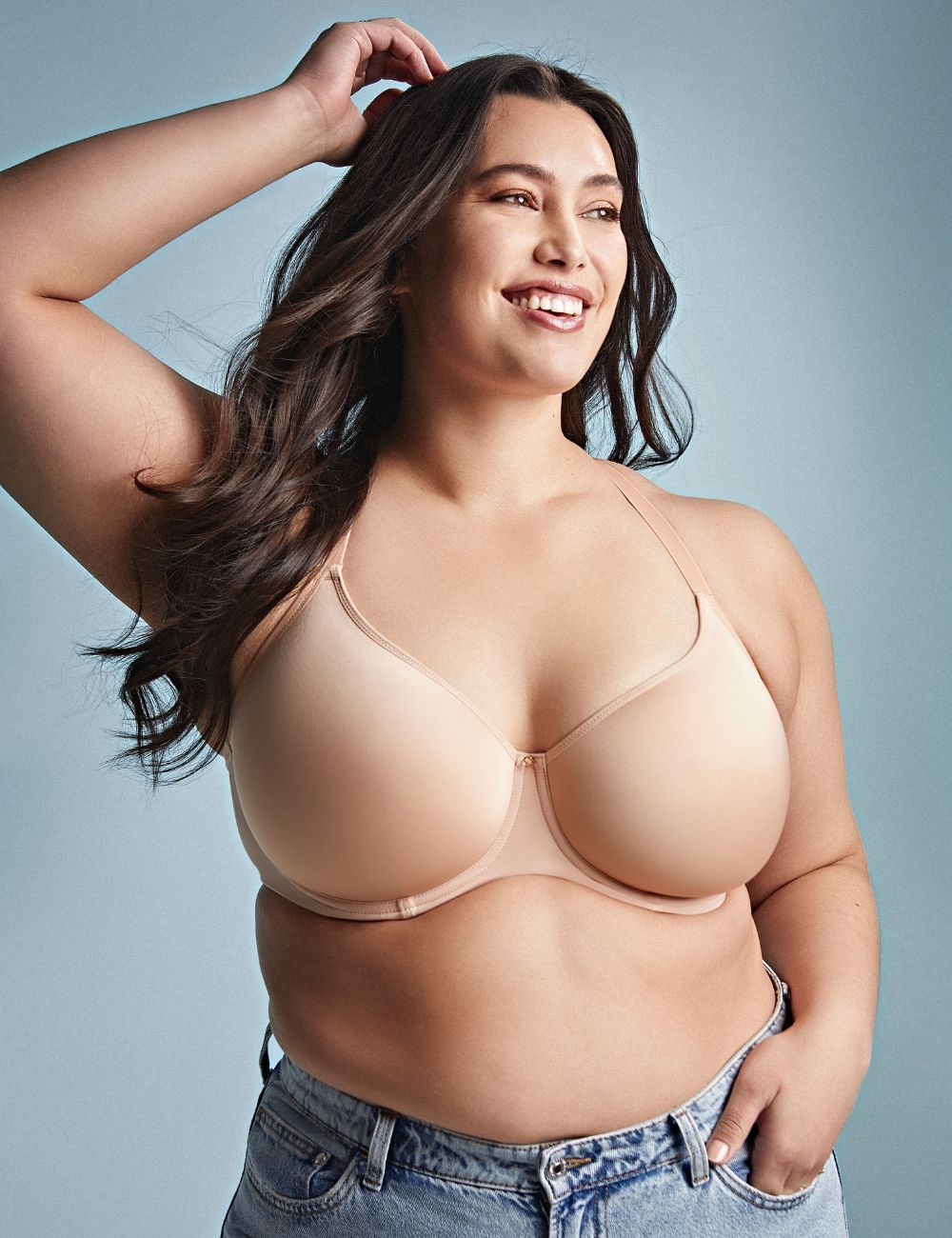 Sculptresse Elegance Moulded Spacer T-Shirt Bra
This classic yet beautiful moulded bra is designed for comfort and support, while giving your breasts a perfect lift and shape. Elegance features soft, spacer foam cups for breathability; and a seamless, double layer back-band that offers ultimate comfort and smoothness under clothing.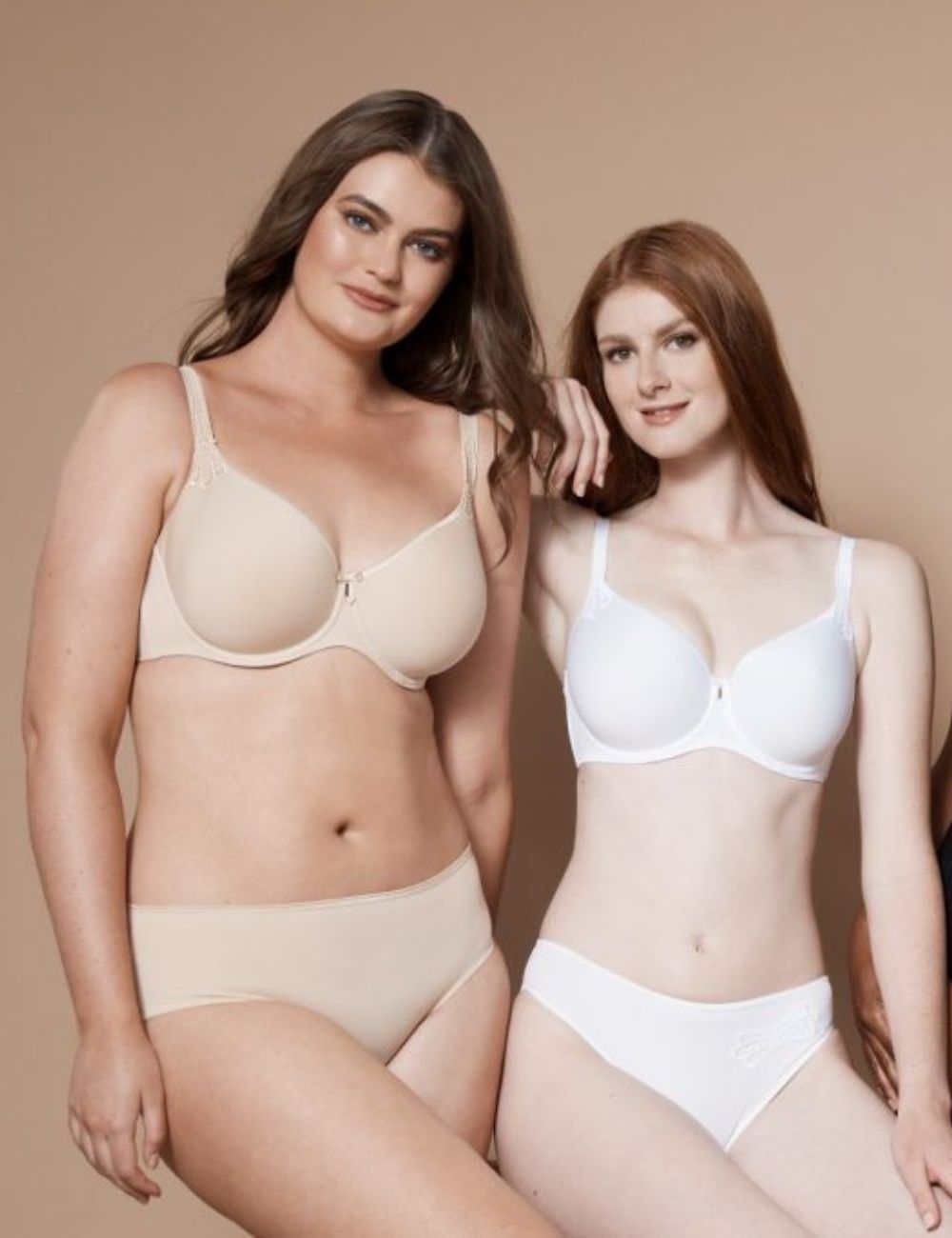 Virginia by Corin is a new generation of bra made with ultra light 3D spacer foam, it adapts to the shape of your breasts and provides excellent support, it is very light and soft to the touch. A built in mesh sling adds side support to increase the lift and shape from this t-shirt bra. This is the perfect bra to achieve an invisible, natural shape under even the lightest tops.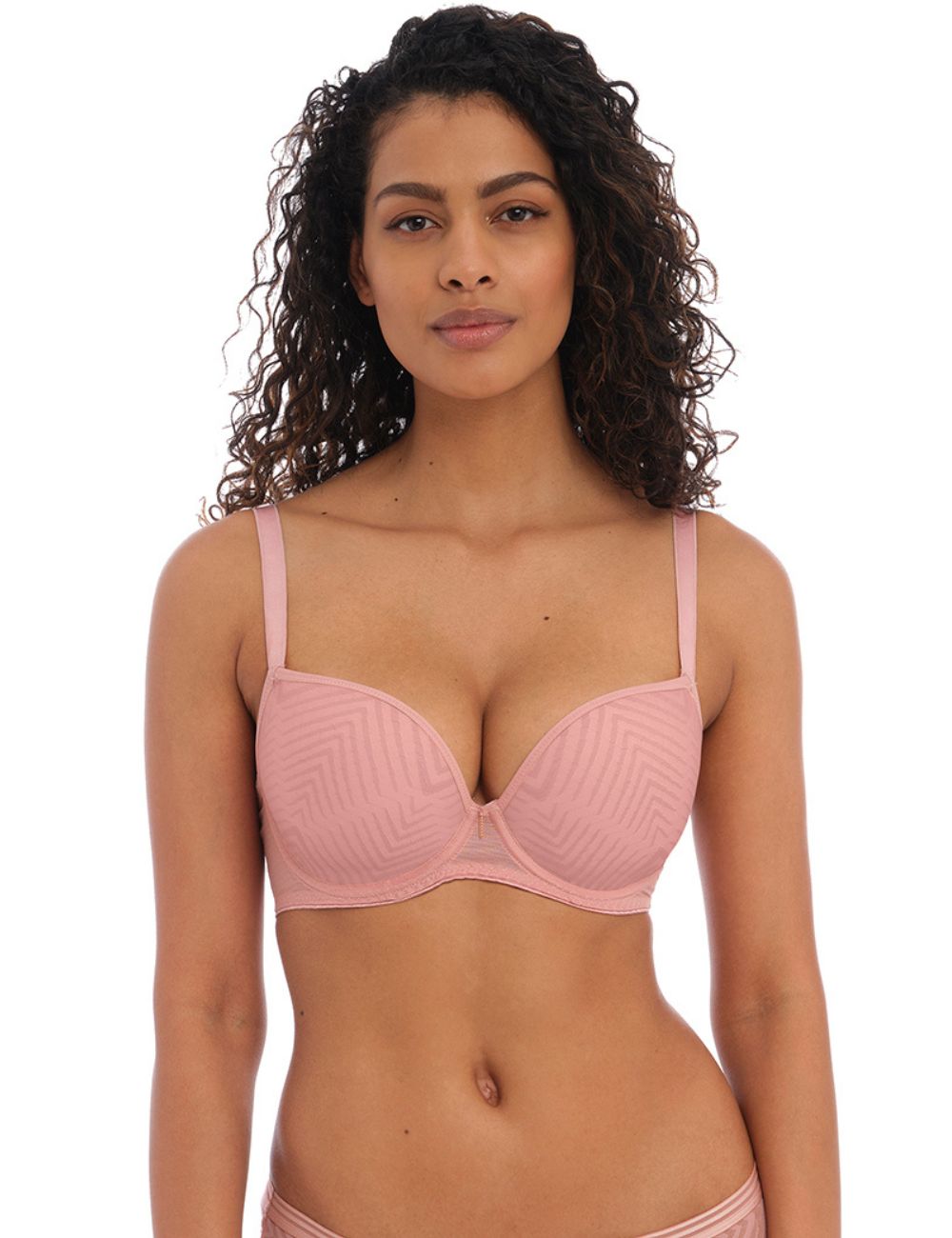 Freya Tailored UW Moulded Plunge T-Shirt Bra
The contemporary Freya UW Moulded Plunge T-Shirt Bra has a flattering low centre and moulded cups with a stretch geo-lace overlay for a smooth and rounded silhouette for a great cleavage without overspill and a flat finish for no show under clothing, Fully adjustable straps, the J Hook adjuster for racer back styling and a cute rose gold bar trim at centre front.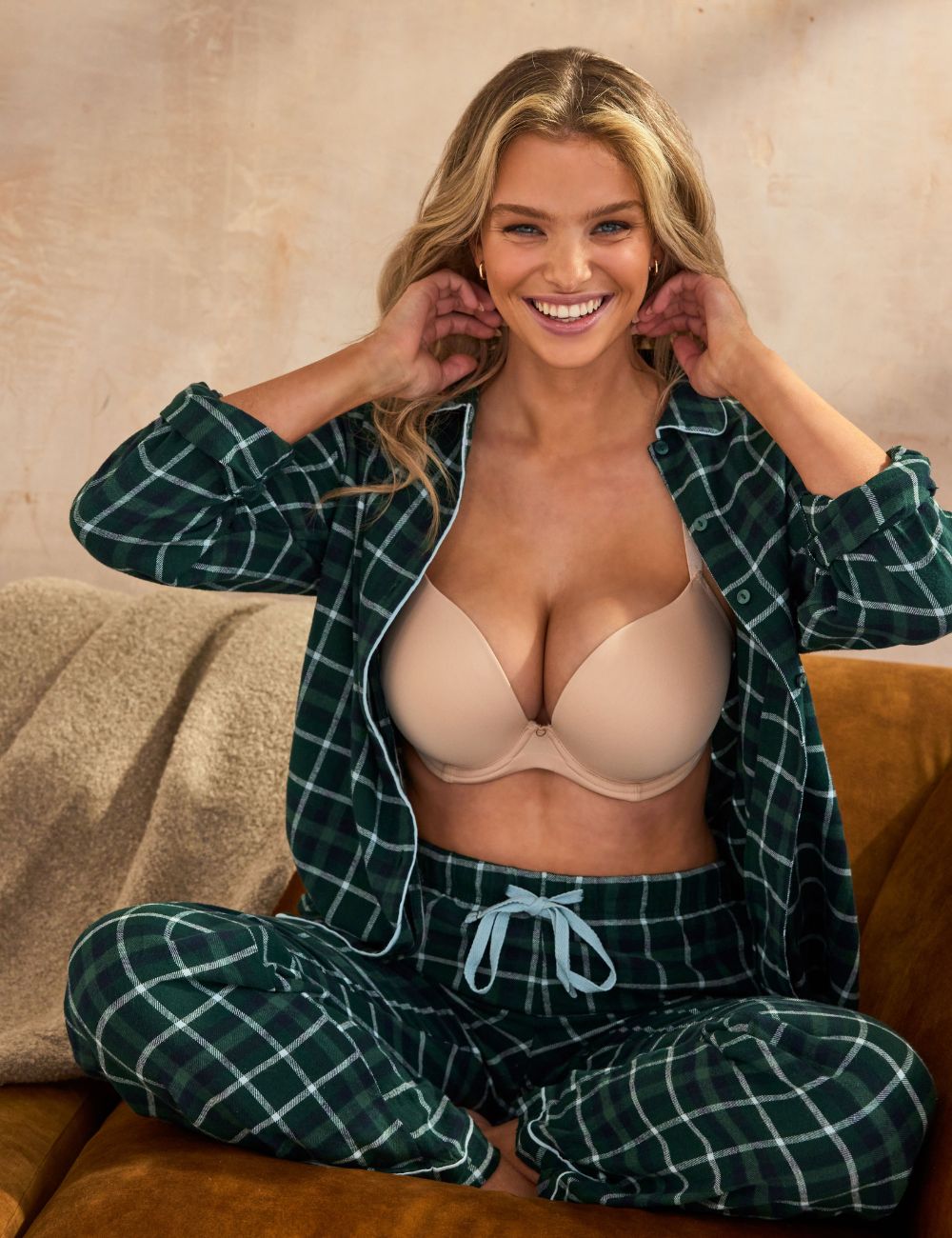 Panache Faith Moulded Plunge Bra
The Faith Moulded Plunge t-shirt bra Bra features a deep, plunging neckline and smooth, moulded cups that creates a gorgeous shape, and round silhouette under clothing with a J-hook for the option to wear as a racerback.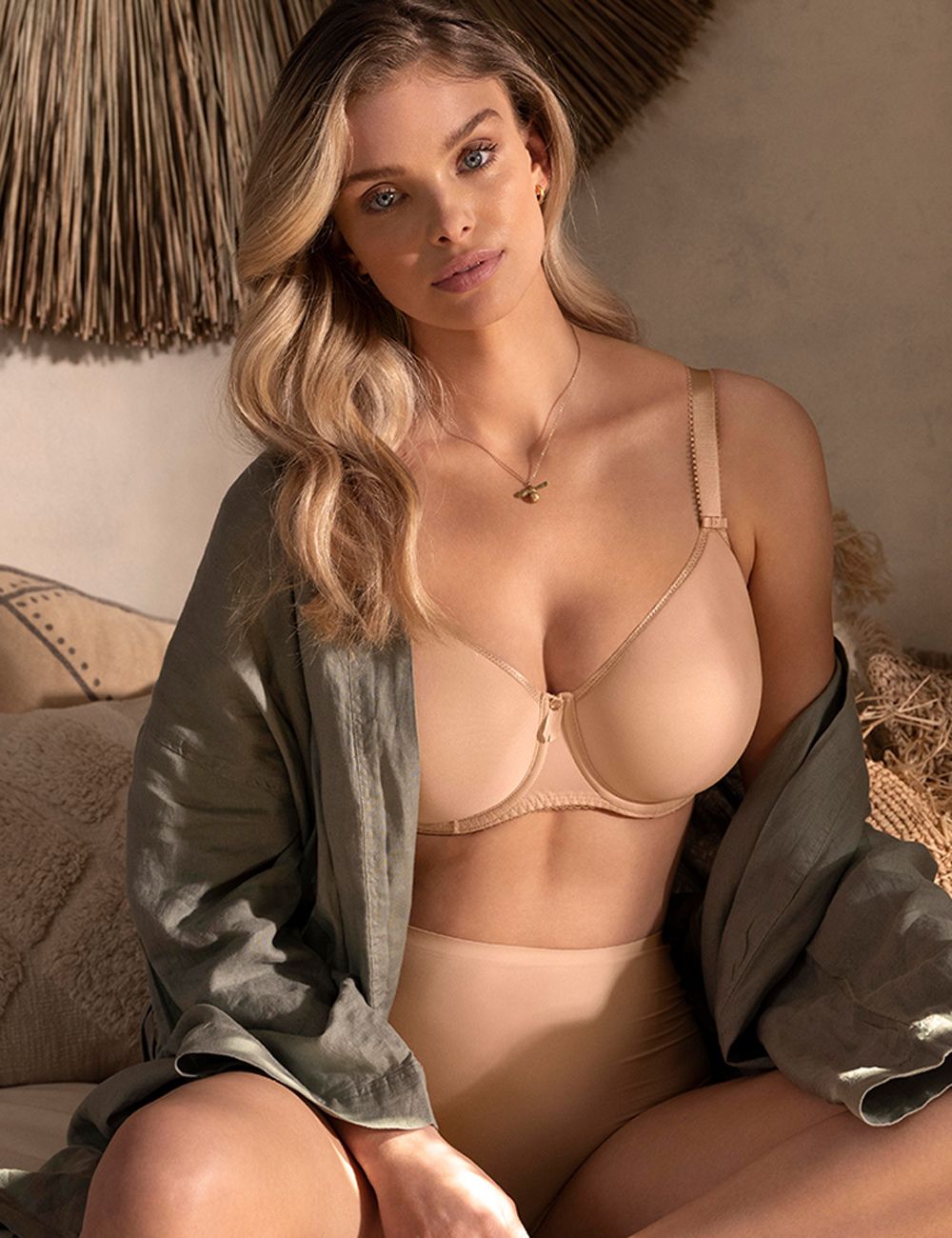 Fantasie Rebecca Essentials Moulded Spacer Bra
Made from a super lightweight spacer fabric, this T shirt Bra creates a flattering, rounded shape and moulds beautifully to your bust, making it appear invisible under clothing.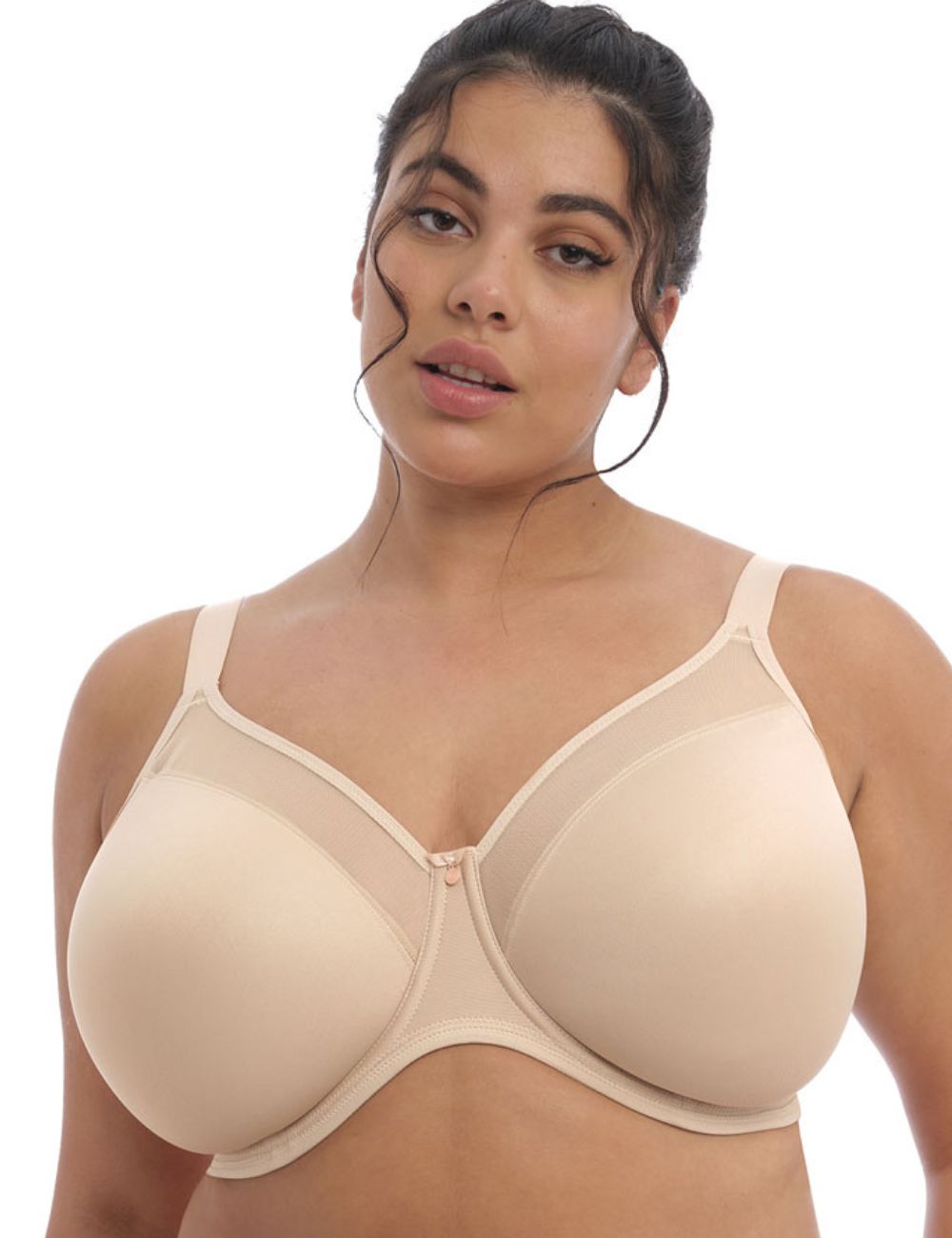 Elomi Smooth Moulded T-Shirt Bra
The ultimate everyday bra for curvy women is crafted from ultra-light Aerocool fabric to keep you cool and dry while delivering complete comfort against the skin. This T Shirt Bra with Non-stretch moulded cups gives superb shape and support, the Tulle top cup offers an attractive light look and the underband elastic features soft edges for complete comfort. The leotard back positioning centralises straps on the shoulder and prevents them from slipping.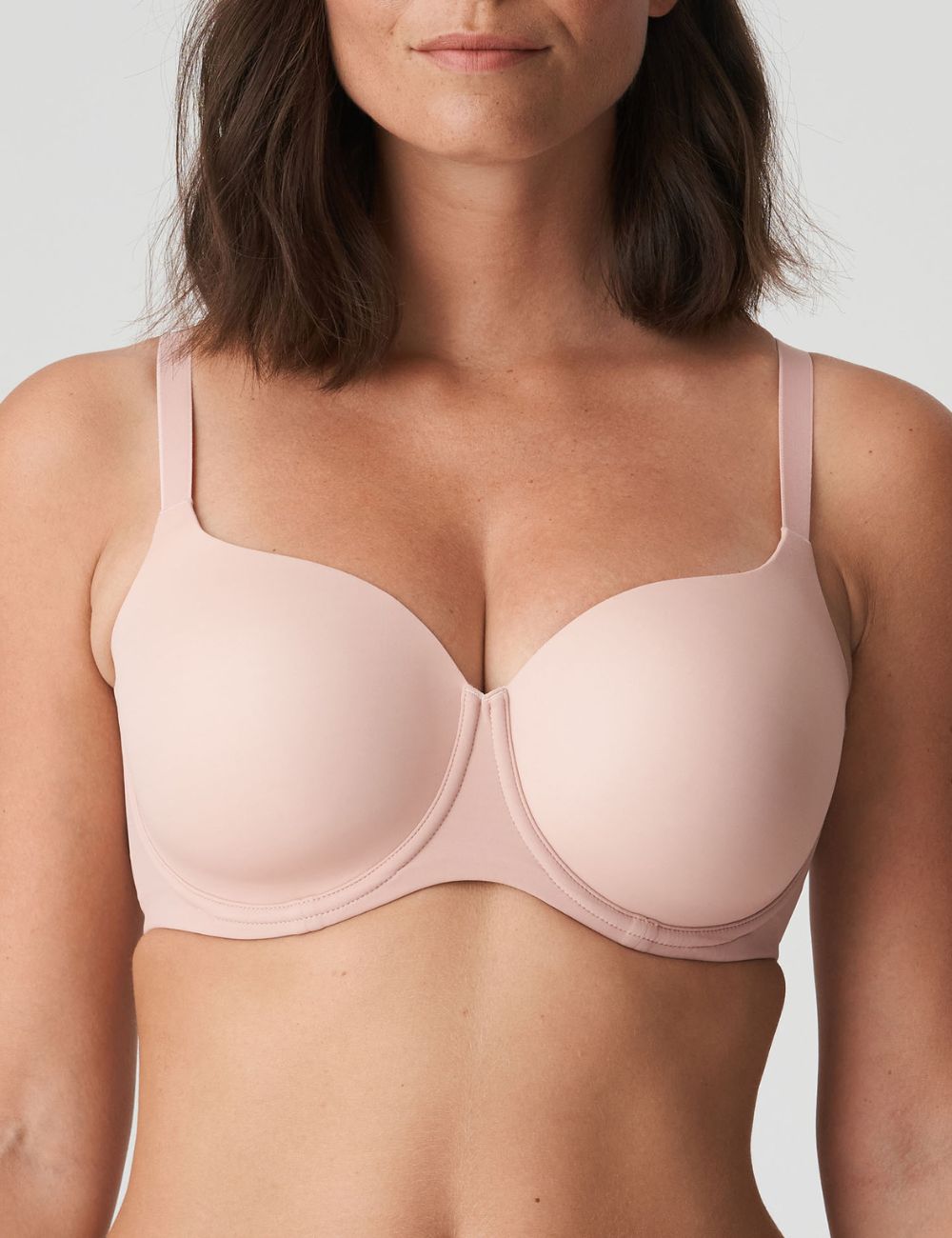 Prima Donna Figuras Padded Heart Shape Bra
The Prima Donna Figuras Padded Heart Shape T Shirt Bra will give you all of the support you need, and is a must have to layer under everyday-wear! Gorgeous heart shaped neckline, its lightly padded for a slight lift and has modifiable shoulder straps.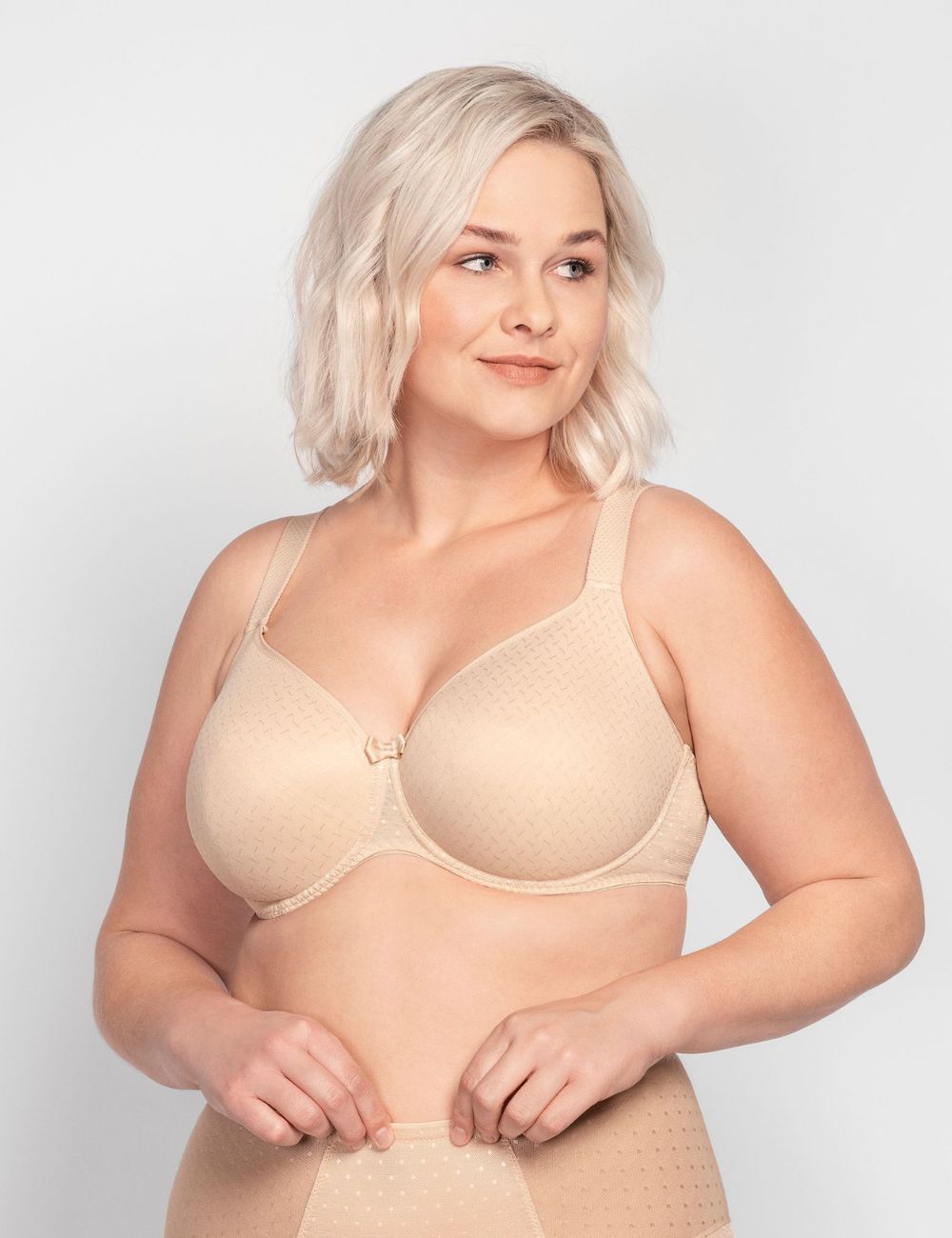 Ulla Meghan Foam Moulded Shaping Bra
The Ulla Meghan Foam Moulded Shaping Bra is ideal to wear under t-shirts! Featuring lightly moulded cups and a supportive yet soft underwire, this bra is incredibly smooth and ideal for styling underneath all your favourite tops. Lightly moulded cups in a full-coverage style, and fully adjustable straps.