Maternity Bras I'm Actually Wearing as a Pregnant Bra Fitter
Seeing those two pink lines on your pregnancy test are bound to cause a mix of emotions. For me, I was in the middle of planning my mid-pandemic wedding for the fourth time. My partner and I were reading another article predicting another lockdown when he turned to me and said, "might be time to start the commiseration drinking, hey?". We were about to drive to our local bottle-o when I remembered, I was a bit late (which I'd assumed was wedding stress related) and it might give me peace of mind to grab that old pregnancy test in my medicine cabinet. Honestly, when I saw that positive my first instinct was that I'd gotten a broken test. I quickly googled "Do pregnancy tests expire?". Before I knew it, I'd picked up a new packet and tried all 6 tests in the box which were giving me the same answer. My wedding being cancelled again suddenly seemed like a much smaller issue.
Growing a whole human life isn't always the magical or spiritual experience it's cracked up to be. The changes in my breasts fell into the more annoying less mystical category. For me at least, the new developments in my bust were the first and most dramatic sign something was under way. Starting with the enlarged darkened nipples (which seemed to pop up overnight) and followed by soreness, swelling and dramatic growth from an G cup to a J cup.
By 8 weeks my current bras were already digging in and I was spilling over the top of them. Dr. Google will tell you that you won't grow out of your bras until you're finished the first trimester. However, as a bra fitter of 6+ years, I've seen countless overwhelmed Mums-to-be searching for anything that will fit at this early stage. So, while this rapid growth wasn't a surprise, it certainly wasn't comfortable. By 12 weeks I decided to bite the bullet and purchase my own set of maternity bras.
I am happy to say this was the one area of pregnancy that I was equipped to handle. Here are the maternity styles I've been wearing as a pregnant bra-fitter:
Elomi Molly Underwired Nursing Bra, 10J
This is the bra I pop on when I want to feel like a normal human in a normal bra and not like a pregnant marshmallow. From a distance, you wouldn't even know this a maternity bra. It has a feminine stretch lace top with extremely firm and supportive fabric throughout the base of the cup. This design has given me the best of both worlds as the stretch lace has moulded to my growing breast tissue while the base has continued to ground the bra. The feeding clips drop down to reveal an A-Frame foam construction. This A Frame design creates a triangle support structure around my breast – which will add more coverage and support when I transition to feeding.
This bra does have wires – which provides the support I definitely wanted as someone now wearing a J cup. To have wire or choose wire free bras seems to be the number one question every maternity customer asks. Because your bust shape is changing so much during pregnancy and feeding, rigid metal wires aren't the best idea. An immovable wire that has been improperly fitted can dig in and cause fluid retention, discomfort or even mastitis. However, a nursing bra like the Elomi Molly uses flexiwire; a plastic wire that's made to flex and fit your changing shape. It provides extra support, lift and feels a bit more normal than wearing wire free bras all the time!
Cake Sugar Candy Nursing Bralette, L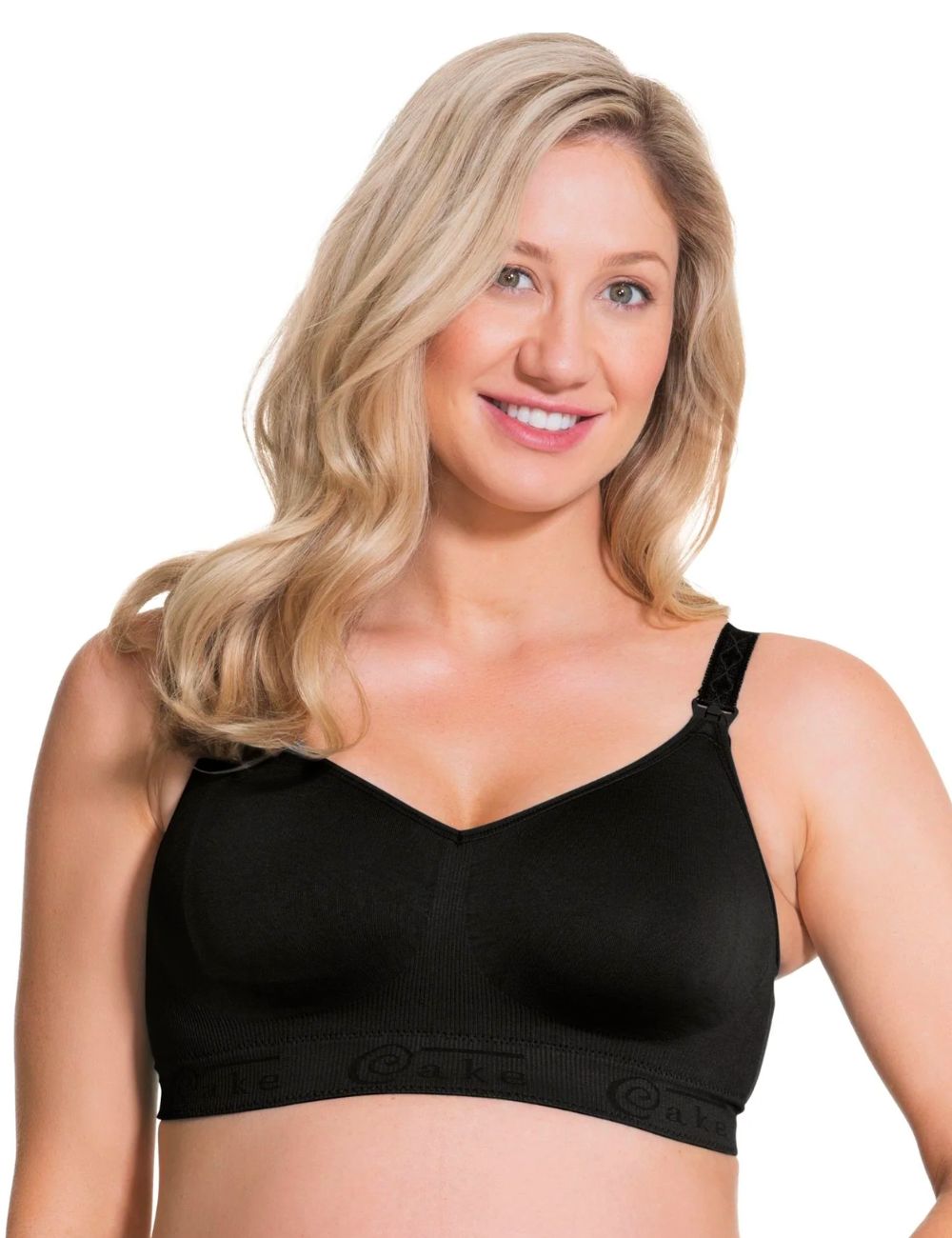 This bra is my go-to. Stretchy, comfy, seamless, wirefree and supportive – Cake's Sugar Candy Nursing Bralette ticks every box. I actually already had this style as an everyday bra prior to pregnancy, but since then it has stretched and moulded beautifully to my bust. The highly structured support panels and concealed elastic underband with thick feeding slings are nothing short of engineering genius.
This bra is also pretty absorbent which I was thanking my lucky stars for when I started leaking at only 16 weeks! This development surprised me – and led to a panicked call with my GP who calmed me down and let me know if I wasn't in any pain, I should be alright. While I find this bra is great for everyday wear, I've also taken to wearing it at night with a cotton round or nursing pad in the cup. Between this extra padding the absorbency of the bra itself, I have found this to be a 100% effective method when it comes to keeping my sheets clean and leak free.
Panache Katherine Nursing Bra,10J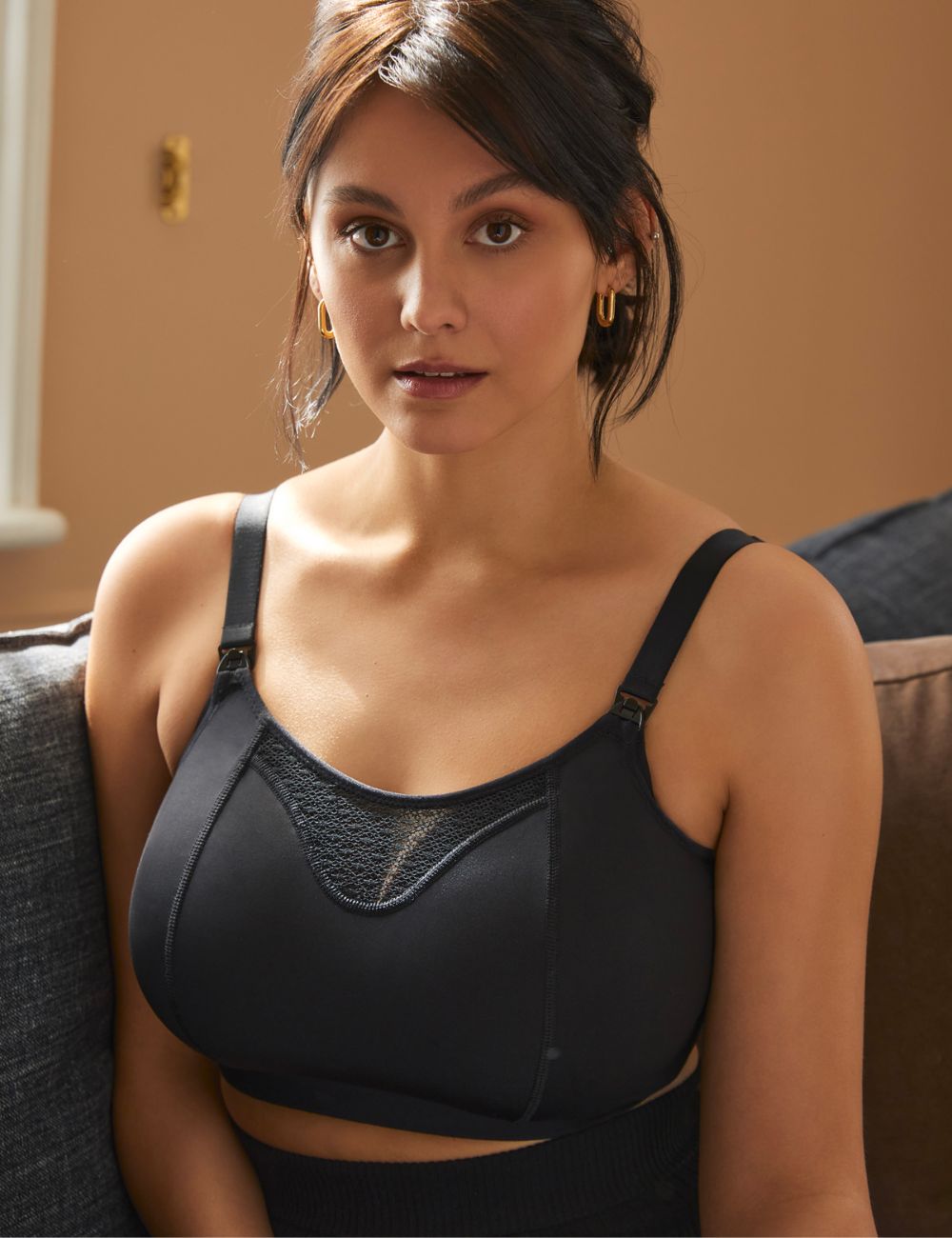 This bra is a bit of a new kid on the block, only being released by Panache this year. I love the sporty crop style look of this bra. It's full coverage with sleek stretchy fabric and a super soft side sling. There's a subtle stretch lace panel at the top of the bra which is a nice detail that also ensures the bra will stretch easily as my breasts grow. It has a firm underband which anchors the base of the bra while the fabric lifts the bust. I love the round shape and support this bra gives while still looking like a minimal crop.
Hotmilk Obsession Full Cup Nursing Bra, 10HH
Last but not least, a classic T-Shirt Bra. While buying a T-shirt bra can feel like a chore, they are an essential item in any wardrobe. Coming into summer, as clothes become thinner and more sheer, it is essential to own a bra that is completely invisible under any fabric. The Hotmilk Obsession Full Cup Nursing Bra is the maternity range's answer to this need. It achieves a smooth look under clothing without being a traditional "granny beige" style by adding feminine lace detailing across the underbust and backband. The contoured cups are a foam, instead of a bulky moulding, so they add shape without adding weight or bulk to your bust. I am so glad to have a bra that still supports me without showing through my thinner tops and dresses.
These styles have all lasted from my 12-week purchase date to now in my 23rd week. I am optimistic there is still space and stretch capability for these styles to handle a further expansion of my bust when my milk comes in fully.
Pregnancy is confusing enough without your bra causing extra boob pain you don't need. Shopping for maternity bras is difficult at the best of times, so let our expert Bra Fitters assist you with an instore or virtual fitting.