What is a plunge bra?
There are so many variations to a plunge bra that you could be forgiven for getting it wrong. It's basically a low cut bra, but how low may depend on the brand.
A plunge bra is defined by the deep neckline leading down to a low centre gore. Not the historic gore, representing a characteristically triangular piece of land or the West Ethiopia city Gore and certainly not the gore where blood has been shed, as a result of violence …ok I digress. In this instance, it's 'a triangular or tapering piece of material used in making a garment, sail, or umbrella'. Who knew that there were so many Gores?!
The gore is the centre of the cups where the underwire forms a little bridge.
Why am I going on about the gore? Because it's what really differentiates a plunge bra from other bra styles.
Or does it?
The shape of a plunge bra can vary a lot, some plunge bras may look more like a full cup bra or a balconette bra. Let's take a closer look.
These two styles are described by their manufacturers as a plunge bra yet they have a significant and obvious difference in the gore height, don't they? The style on the left could be described as a balconette, or even a full cup bra.
Yep, the lingerie industry has a lot to answer for, so many variations - and don't get me started on bra sizing.
The black plunge bra above has the smallest gore (the sewing kind, not the land kind). It's a Curvy Kate and is a true plunge, but not everyone can pull this off – hello squishy 4 boob! So sometimes we need a higher gore to hold and separate the soft bits. After all, not many of us have boobs so firm they sit rigid in a true plunge, most of us need a little more fabric. That's where these other plunges play a valuable part. Just know that there is no ONE bra that works for all women, so at Brava we truly welcome the variations of plunge bras, because we all come in different shapes and sizes with various levels of firmness. You are not just a number, not just a bra size, we are all unique and the style you choose has a crazy amount of importance.
Plunge bra facts
The underwire is shorter than others which means there is no wire poking into your chest bone, this works particularly well for women with close set breasts
Plunge bras can be cut and sew which means separate fabric pieces are sewn together or moulded which is one piece of fabric.
A plunge bra can give you no cleavage or a mighty cleavage, confused yet?
If you have wide set breasts a plunge bra with side support panels can push breast tissue toward the centre, oh nice!
Not always great if your breasts are bottom heavy and softer on top, hello 'quad boob'. You may find you don't fill the top of the cup or your breast tissue falls into the centre, and may spill out of the bra a little. For you, our fitters may suggest the Panache Ana Plunge or a balconette bra with a higher centre will give you a gorgeous lift with more a north facing cleavage without any spillage.
How should a plunge bra fit?
No different to any other bra, the centre gore should tack against the chest bone. If it pulls away, it's likely the cup is too small or the band is too big which makes for an uncomfortable fit.
Our favourite plunge bras
All time favourite…..drumroll please...
Stretch lace plunge bra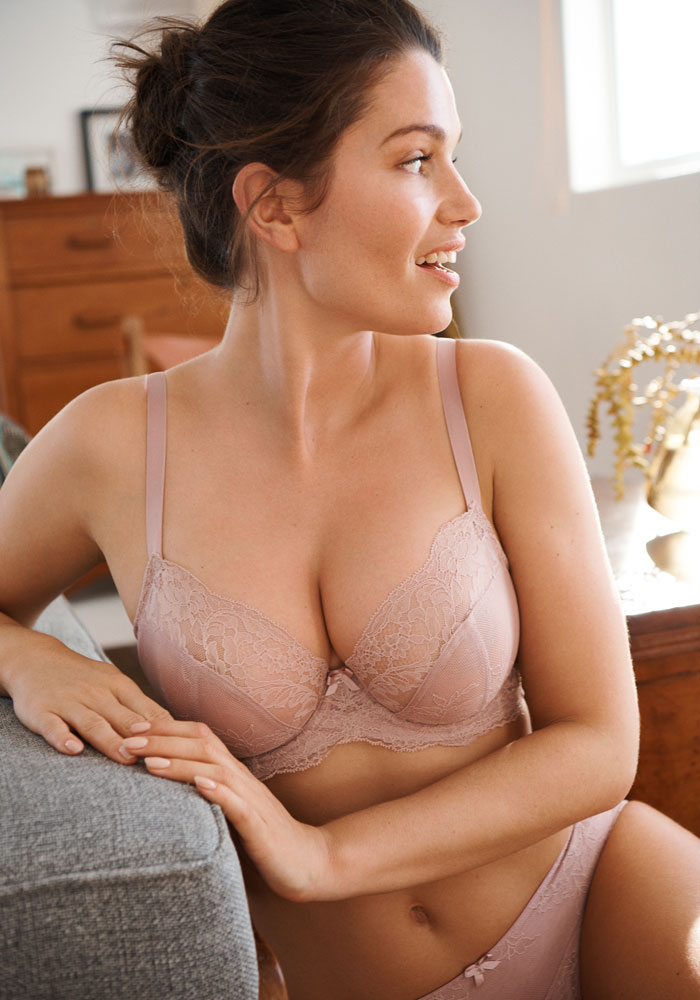 Panache Ana Plunge Bra Vintage
Still plunging enough for a low neckline outfit, and a high enough gore to hold you in, but my favourite feature is the light stretch lace, it does a great job holding and separating. This is one of those bras that work well for most women.
Ever heard of a Full Cup Plunge Bra? Probably not, we just made it up.
We couldn't decide between these two Elomi styles which, to be honest, do not merit the term Plunge, but are magnificent bras if you want it lower in the front but the support and comfort of a full cup.
What is a deep Plunge Bra?
Panache Koko Moulded Plunge Bra and Moulded Strapless Bra.
Lin wears Panache Koko Spirit Moulded
Plunge Bra in 10GG
Lin (10GG), Brava co-founder pulls off a deep plunge beautifully here. Don't think because you're more mature that you can't rock a plunge bra.
Pro tip: As a test, have a bit of a jiggle once you try it on to ensure your breasts stay within the cup with movement.
And finally a Very Deep Plunge bra
Aptly named a super plunge, this Curvy Kate bra is a true plunge that can make any plunging outfit look amazing.
Need some help with a plunge bra but can't make it in-store? Use our award-winning virtual fitter service to speak with expert bra fitters who can help you get the best plunge bra for your size and shape!